A summary of the 11 most important functions:
DKB Visa card
DKB customers will be ecstatic about their absolutely free Visa card and the opportunity to withdraw money worldwide, even in foreign currencies, without any fees.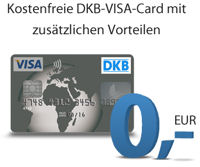 Once you start to look into the details, you will start recommending this card to everyone and wonder 'Why didn't I get this sooner?'
This page summarizes the 11 most important and useful functions of the DKB Visa card. You can gladly comment at the end of the page if you have something to add or have any questions. but beforehand …
… this is what DKB customers love most:
completely free Visa card (no annual fee, no hidden costs!)
all cash withdrawals are free of charge at home and abroad
the customer call center is available 24 hours a day in case of problems
Here is the direct link to the bank
www.dkb.de/privatkunden/dkb_cash
… but maybe, it is a good idea, if you read this page before you apply for your new free bank account with free Visa Card!
1. Free Visa card
The DKB Visa card is only available in the free version. It is an automatic part of the "DKB Cash" offer. It is a combination of an internet checking account and Visa card. Optional DKB offers such as custody account or financing can also be added.
DKB Cash can be used as anything from a "home bank on the internet" (the bank's slogan since 2014) to a secondary account/card for travel or saving purposes. No matter how you use it, it is always free!
2. Withdraw money worldwide at no cost!
Since the DKB does not have its own branches and isn't connected to any ATMs, all Visa-certified ATMs are available to you, and you can even withdraw cash at no cost.
Every withdrawal with the DKB Visa card is free of charge!
Don't be bothered by notifications of fees for foreign customers (on the ATM itself or on the screen). For every cash withdrawal, there are two transactions that happen in the background: first, the withdrawal of an amount of cash and second, the fee for the withdrawal.
You will see the first transaction on your credit card statement, but not the second. You don't need to pass this on to the DKB, it automatically takes care of it.
Tip: If you withdraw money in a foreign currency with your DKB Visa card while abroad, it simultaneously saves you the expense of a currency exchange. When withdrawing cash from ATMs in a foreign currency, the DKB doesn't charge any handling fees or additional fees on top of the exchange rate. These two articles expand on the advantages in detail:
4. Payment with interest advantage
The DKB Visa card is a "real" credit card. The difference to a debit card (V Pay or Maestro Card = second card that you receive when you open an account with the DKB) is that payments aren't booked directly from your checking account, but rather are gathered on the credit card account.
Because of this, the account balance can slip into the red. That's good and the way it's supposed to be, because the DKB never charges interest on credit. You are interest free while in credit!
This is true until the 20th or 22nd of that month (if the 20th is a weekend or holiday, the following business day applies). Then the credit card balance is paid from your DKB checking account. If your checking account doesn't have a high enough balance for this, the bank charges overdraft interest but never expensive credit card interest rates like the ones from regular credit card companies.
5. Saving with an interest rate advantage
You can use the DKB Visa card as a savings card (modern savings account), because the DKB gives you a good interest rate on the savings on your card. You can find the current interest rate here: https://www.dkb.de/privatkunden/dkb-cash/produktinfo/dkb-cash-vm-tagesgeld-verzinsung/index.html.
The interest is credited monthly, which means you can look forward to a small compound interest effect.
Even though it hardly makes any sense to use a savings card for payments (except if you've saved for a trip), I still recommend that you ask the DKB to issue you a second Visa card. Every cash withdrawal or payment immediately reduces your savings!
The second Visa card is free, as well. You use one to spend money and let it go into the red, interest-free, for up to one month and use the other to save. Here, the balance will earn interest every day that is credited at the end of the month. Isn't that clever?
I'll write an article to better describe how to apply for a second DKB Visa card soon, and insert the link here.
6. Smart saving with the "account clean up" function
Banks profit very well when working with a notable sum of money that an account holder leaves on his checking account, as banks usually don't pay any interest at all or only low interest in case of the DKB for money on checking accounts.
It doesn't have to be that way. Get the earnings on your account! The DKB offers a useful function for this in their online banking system. It's called DKB Visa saving.
For saving purposes, you can have the remaining balance on your checking account automatically deposited to your Visa card. This is usually one day before your income is deposited. Alternatively you can set a basic sum, so that only everything above this limit gets transferred – this makes sense if unexpected withdrawals occur.
This automatic deposit is easy to set up and can be adjusted at any time. People who put this idea into practice will automatically become more wealthy!
7. Having an emergency Visa card sent to you while abroad
You are traveling – maybe even out of the country – and your credit card gets lost or stolen. What now? Of course you report the loss to have the card blocked first. (You can find the telephone number to do just that here: Emergency card or even emergency money while abroad (German)). But still, you might be stuck in a foreign country without enough money.
That's not how it is for DKB customers, though. Within 48 hours, you will receive an emergency Visa card at no cost. This card is valid for 6 months, or until you have a regular replacement card, allowing you to comfortably resume your travels.
I'll also post the link to an article here soon that goes into more detail about this topic.
8. Free online safe
(save files on the bank's backup server)
If you have been robbed while traveling, it's likely you've lost more than just your Visa card. Germany's Federal Foreign Office recommends that you always make copies of your passport and other IDs and bring them with you as well. This makes it much easier to verify your identity and issue the replacement of the lost documents.
However, I have never felt very comfortable carrying important documents around with me while traveling. 99.9 percent of the time you don't end up needing them and drag them around with you for no reason.
Thanks to the DKB, you don't need to take the documents with you. You can find the option to upload up to 40 megabytes in files to the bank's server by clicking on the menu Briefkasten (mail box) ⇒ Tresor (safe). These files are kept very secure and can only be seen by logging into your online banking account.
If I actually do lose my passport (you can also upload the insurance document of your international health insurance, international driver's license, etc.), I just find a secure computer – for example, one in the German consulate – log into my DKB online banking account and print out a scanned copy.
9. "City Cashback"
(discounts through use of DKB Visa Card)
DKB "City Cashback" turns your Visa Card into a real discount card. Just by showing the card you get interesting discounts in lots of German cities, and you don't even have to use the card to pay for your purchase.
It's interesting that mainly small, local shops are members of the "City Cashback". In Augsburg's "Barium 56" you get cocktails for half the price (no matter if it's happy hour or not) or at the "Easy Car Wash" in Oldenburg you get a €1.50 discount off of every car wash.
Discover the possibilities for saving near you with the DKB Cashback app.
10. DKB Special
(DKB Visa card as an admission ticket)
With DKB Special, your Visa card turns into an admission ticket! The DKB is heavily involved in the promotion of sports, which is probably the reason why tickets are continually given to customers free of charge !
On the day of my research, you could even sign up for tickets for soccer games from the German Soccer League (home game of Hertha BSC Berlin).
Similarly, the DKB Visa card acts as an entrance ticket to the tallest building in Germany, the Berlin Television Tower (368 meters tall!) My report about that is yet to come.
Besides DKB "City Cashback" and "DKB Special," there is Online-Cashback, which starts directly with online banking. You see, the DKB Visa Card is not only a free credit card, but a complete package with a huge potential for saving and holds a generous amount of entertainment value.
11. Easy application
Applying for a DKB Visa card is easy. Go to this page: https://www.dkb.de/privatkunden/dkb-cash/produktinfo/dkb-cash-kreditkarte/index.html and start the application process.
The DKB Visa card is always issued as DKB Cash (internet checking account and Visa card). Sending an application is possible while in or out of the country. If applying from abroad, make sure to check out my tips for legitimization (German).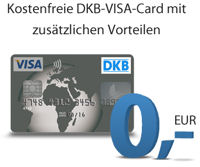 The only requirement: You have to be fluent in German (contracts and communication with the bank is all in German) and cannot have any negative credit records with the SCHUFA (German protection company for general creditworthiness).
Your income and asset situation doesn't play a huge role in the application, however, it will of course decide the credit limit on the Visa card and the overdraft on the checking account.
The credit limit can be increased over time, account and card can also be used initially with the positive balance or with small beginning credit limits.
"I never want to be without this card again"
… you won't find a better credit card!
P.S.: If you have anything to add from your own experience, you're more than welcome to! That's what this site "lives" on and also benefits other (and especially new) DKB customers/users.
I'm also happy to answer your questions, I've been a DKB customer since 2004 and have experienced quite a lot (especially positive).
91 Responses to "DKB Visa card"