Cancel, keep or open again?
ING current account in Germany free of charge, if:

you are younger than 28 years or
you arrange to transfer a monthly incoming salary of Euros 700 or more to the account.
Do you fulfill these conditions?
If so, you can go ahead and happily open the account:
Bonus of Euros 50 for people with incoming salary transfer!
If you still do not have a current account at the ING (also applies to existing customers with the products credit line and securities account) and arrange to get the salary or pension payment of at least Euros 1,000 in the account, then you get a bonus of Euros 50 as a thank you credited.
For the bonus, it is enough to receive twice the incoming payment. If it is not transferred afterwards, then you can still keep the bonus of Euros 50. This is just for the sake of completeness.
Is an account switch worthwhile for you?
If you have been or still pay account management fees for your current account at another bank, then the switch can be worthwhile in two ways:
become free of charges, if you fulfill both of the conditions above
bonus of Euros 50, if you fulfill the lower condition.
Is this alright for you?
I would be glad to read your feedback through the comments feature at the end of this page. If you want to find out more on the benefits of the ING as your current accound holding bank, please take a look at these pages:
Briefly for your orientation being a non-customer:
The ING is one of the biggest and best direct banks in Germany. The current account was unconditionally free of charge until 2020. From the 1st of May 2020, Euros 4.90 will be charged, if you do not fulfill the above mentioned conditions.
You can find a "trick" of how almost everyone can fulfill the conditions in the course of this article.
In contrast to other banks, the ING is really free of charge, because no additional fees for the cards or for cash deposits and withdrawals will be charged. Please do not underestimate that!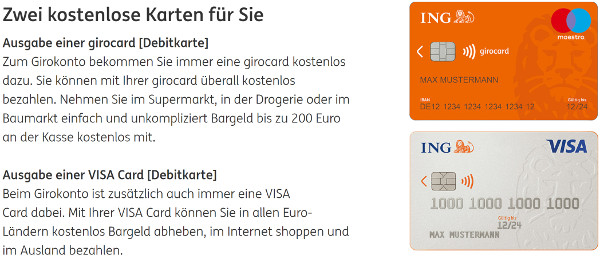 A "thank you" to our community
When the new conditions of the Euros 700 "limit" for the cost-freedom have been introduced, our community worked together in a genious way using the comments feature.
People have been exchanging their comprehension on the initially contradictory condition descriptions and have contacted the bank in different ways.
This happened with such an intensity that the ING – I would say – "backed off" and turned the incoming money transfer from being either or salary, retirement or pension payment into a for example salary, retirement or pension payment.
Standing order is enough!
Therefore, (own) standing orders, if they come from another bank, are also enough for the cost-freedom of the current account.
Apparently, the ING has already counted on that, because people of our community have provided us with letters of the bank in which the ING has confirmed that their existing current accounts are not affected by the fee introduction. These people do not have coded salary transfers that are marked by key numbers, but only normal standing orders.
The fine details in the wording were obviously made with a reason in order to gain the highest possible number of salary transfers. Well, you cannot blame the ING; a salary account customer is statistically also a more lucrative customer for the bank.
It really is worthwhile advertising, therefore also the current bonus of Euros 50. Do you take advantage of it? (if you are not yet a current account customer)
Will you continue to use the ING as a reserve current account?
It is widely known that I personally have loved to use the ING as my reserve current account, because you could get a nice overdraft facility by only submitting the proof of salary, but not having to have the actual salary transferred to this account.
Some of you have followed me doing so and here is my decision for you:
Yes, I will continue to use the ING as my reserve account. It has proven itself in many years. In order to keep this cost-freedom there, I will set up two standing orders. One to the current account – and one from the account.

I cannot promise you that this will be a permanently functioning possibility. You could classify it as a bypassing state of affairs. Such strategies are made by us smart bank customers – but never the broad majority. For the ING, smart bank customers are not the problem. On the contrary!
We have seen at the DKB that this procedure works very well since 2016. The fact is that there is also a Euro-700-threshold. Not for the cost-freedom, the DKB-account is always free of charge, but you get better conditions at the interests and the foreign transaction fee is cancelled.
Further articles about current accounts:
Feedback: What do you do?
You already know: I highly estimate the smart feedback from our community and it has substantially helped the quality and traction of our special portal. A heartly thanks for your commitment through the comments feature and the continuous sharing of links to our articles and videos.
Are you new here? You can become a part of our community through the Sunday mail.
Note for our international readers: In order to open an account at the ING (Germany), you need an address or place of residence in Germany.
2 Responses to "ING current account in Germany free of charge, if:"