DE-IBAN for Corp, Ltd, LLC, SRL and further legal forms
Open a business account online in Germany for an abroad company
It is probably no the perfect solution for everybody. However, it is a solution with which many entrepreneurs and companies can (transitionally) live.
What do you think of these bank services?
free current account with a German account number (DE-IBAN)
receive transfers in EUR (free of charge)
send money (low fees)
comfortable management through online-banking or banking-app
convert money into other currencies (e.g. USD, GBP, PLN, CZK, UAH, RUB, HKD)
receive money in other currencies (e.g. USD, GBP, AUD, NZD)
free Mastercard for cash-free card payments or for withdrawing cash at the ATM
easy online account opening with document upload
account opening possible in the name of an abroad company
This account is called "Borderless-Account"
Details about the Borderless-Account
Receive and send transfers
When creating a EUR-account, you receive a German account number (DE-IBAN). Payments up to millions can be received free of charge.
Outgoing transfers can be implemented in EUR or in very many other currencies. Herein, comparably low fees apply. A professional service provider has to earn money somehow, if it already supplies you with a free account and card.
Comfortable management possible through the app
Of course, included in the Borderless-Account is a functional banking-app.
You can easily check transactions, initiate transfers or create further currency accounts using your Smartphone.
As you can see in the screenshot, this article was created on a business trip to the USA.
Thanks to the Borderless-Account, I always have my business account in an overview and can use it comfortably thanks to the app and Mastercard.
Free Mastercard
Many of our readers do not need a card to their account, however, I advise you to order it anyway. A moment can come, when you want to undertake a payment directly from your German account or you need cash.
Questions about the use or account opening?
Please use the comments feature at the end of the page. I am glad, whenever I can help!
Done in 5 minutes:
online account opening

✅

Especially advantageous is that you can immediately start with the account opening. A user account is created fastly online.

Then you upload the identification documents of the acting persons (e.g. passport). The company documents (e.g. certification of corporation) are also uploaded.

The customer service needs 24 to 72 hours for the evaluation and has some questions in some cases, then the account is fully opened and ready for use.

From the perspective of expenses, it is a lot cheaper and often also faster than travelling to Germany.
Easy account opening in the name of a company
Samples of success
German bank account for an Ebay or Amazon business
Eric is a German citizen, but has founded a Limited (LTD) in Hongkong in order to purchase cheap technical equipment in big batches in Asia and resell them through Ebay to consumers in Germany.
Besides Paypal, he wants to state a German account number as a second payment method. His former house bank, the Sparkasse, was not interested when he asked for an account opening for the abroad company.
He really likes the solution with the Borderless-Account by TransferWise, because he is automatically notified about every incoming payment (optional push-notification) and can immediately send the goods to his customers.
He also thinks about selling electronics to Great Britain, because he can add a British account number and sort-number to the Borderless-Account.
If Eric later on wants to sell his goods as Amazon FBA throught he marketplace at Amazon, he can also state the IBAN of his Transferwise-account.
German account number for vacation home rental in Florida
Lisa and her husband have decided to buy a single family home with pool and rent it as a vacation home, after having spent several vacations in Florida (USA). Many of their vacation guests are from Germany and it is easier for them, and above all cheaper, transferring to a German account.
They know that a strict cost division between private and commercial expenditures is important. Moreover, they have not bought the house in their own name due to their attorneys advice, but they have founded a company and have added the house as an "asset".
The account opening on their "vacation home corporation" was easy at Transferwise. Additionally they were glad that there was also a USD-account included and so they can manage both currencies at one provider.
Why do you need a business account in Germany?
Please write some sentences about your challenge. This way, we, the editorial, can produce even better content and solutions in the future.
Of course, you can supplement this article with your experiences and ideas. A heartly thanks for that!
Information about the author
Concluding words about the provider
TransferWise is not a German provider. TransferWise is a British company. If you open the Borderless-Account and add the EUR-account for free, you get a German account number (DE-IBAN).
One can use this account to 98 per cent just like a business account at a German bank. Additionally, you receive – partially free of charge– further services, such as Mastercard, foreign currency accounts, international transfer possibilities.
Moreover, the account opening is considerably easier, because you do not need an appointment at a bank branch office. This is standard at German business accounts!
You just upload your documents about the person and the company. These are checked by the customer service and then, your account is activated. This advantage also has a small disadvantage. It can happen that you are asked to upload your legitimating documents anew after years of use.
If there should be delays at the account opening – it can happen, if you open the account for an abroad company – it is recommended to contact the customer service by phone. From my experience, I can tell that you get the best help through the telephone. It is a different team than the one of the e-mail support.
The telephone customer service in Germany is available dialing +49-522-39473001 from Monday to Friday from 8 am to 7 pm.
If you need the contact data of another country, please write us using the comments feature.
Last recommendation: Start your account opening now
I would be very glad to hear from you, whether you were just as happy and thankful for the possibility of using a business account with app, card and DE-IBAN in the name of an abroad company, after the procedure of account opening and the first usage experiences.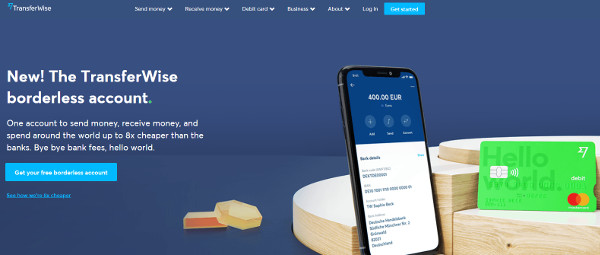 I wish you all the best for your business in Germany and around the globe!
Do these articles help you?
6 Responses to "Open a business account online in Germany for an abroad company"