Your new account number will be immediately activated
Open a business account in Germany for self-employed: The 5 minutes solution ✔
This article was written due to a request from Hungary. However, the solution could also be interesting for self-employed people in Germany!
Problem: Many self-employed people from abroad have customers in Germany. For the customers, it is often complicated and expensive to make transfers to the abroad.
Moreover, it is also expensive for the self-employed person, when he / she receives transfers in Euros to his/her account in the home country.
The solution: opening a bank account for commercial purposes in Germany.
New problems will arise, but this article will solve them all!
New problem No. 1: If one does not have an address in Germany, many banks do not want to open a bank account.
New problem No. 2: With the DKB and Comdirect, there are excellent providers, who allow a place of residence abroad when opening an account.
However, these are pure private customer banks. If one opens an account there and uses it commercially, there is always a danger of an immediate account cancellation by the bank, as one violates the contractually agreed terms.
Now the solution for you
We have researched a provider, which fits exactly to the solution of the problem and the account opening does not take more than 5 minutes.
This means: you will receive your German account number within a few minutes and you can write it immediately on your invoices and receive payments right away.
Before you open the account, please look at the following details:
German current account with IBAN and SWIFT-Code
included in the basic fee:

1 MasterCard
receive 5 payments per month for free
1 × withdraw cash (also outside of Germany!)
Online banking / banking-app

no address in Germany necessary
no creditworthiness check
online account opening within 5 minutes
Go directly to the provider ⇒ www.onlinekonto.de/mainpage.
The details:

1. Immediate account opening

The absolutely brilliant thing about it is that you can open the account immediately – even if it is Sunday night at half past two.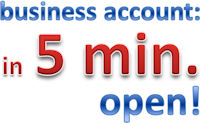 With your online application for account opening, an account number will be immediately generated, which works immediately.
If you want, you could make an immediate transfer to your new account in Germany. Moreover, you can also take the account number and write it on your stationery or on your invoices.
You can receive payments right away!
You will see how the account opening exactly works in the second part of this page.
2. Important to know: Legitimating and complete activation
Also in Germany, there is a Money Laundering Act, which states that the financial institution must know its customers. That is why each account holder must be identified beyond doubt.
Only after the legitimating, you can use the account to its full extend. Until then, however, a limited use is possible. You can receive payments, but cannot make payments. Similarly, the MasterCard can only be ordered after the legitimating.
The legitimating currently takes place through the German post (PostIdent-procedure). You simply visit any branch office of the post in Germany with your ID-card or passport and the Ident-Coupon for the PayCenter online account and ask for the identification.
In the future, there will be a Video-ID process. More on this will be published in further articles.
For most people – just as for the businessman from Hungary, whose request to our editorial led to this article – this is totally okay, because they visit Germany several times a year anyway in order to carry out business meetings and to visit customers.
Invoices can already be paid to your account, which is a big advantage!
3. How to get your money home (abroad)
Now, it is super easy for your customers to pay their bills cent accurate to your German business account, but how do you get your money back home?
Here are two suggestions for you:
Use TransferWise or another provider, who has specialized on cheap cross-border payments, or
Simply withdraw the money using your MasterCard in your hometown or anywhere else in the world. The daily limit for cash withdrawals is Euros 5,000!
Possibly, your ATM will not have so many bills, 😉 but your new German MasterCard can do it!
Withdraw up to Euros 5,000 per day with the MasterCard!
Part II:

Account opening – Instructions

Go directly through this link: www.onlinekonto.de/registration/quick and change in the area "Registrierung" (registration) from "Privatkonto" (private account) to "gewerbliches Konto" (business account). Then you will see the following page and can start filling out the form: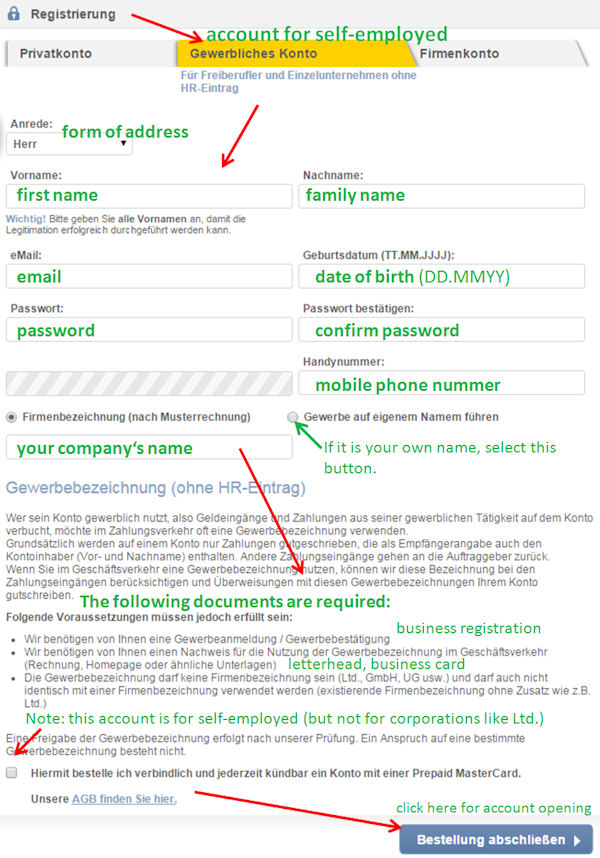 Steps 2 and 3 are the same as at the account opening for private persons. Please take a look here: Confirmation via e-mail and message on the account number.
Congratulations: Your account is opened and ready for use!
Immediately after the online order and the confirmation of the e-mail address, the account is opened and ready for use. You will see your German bank account number at your first login: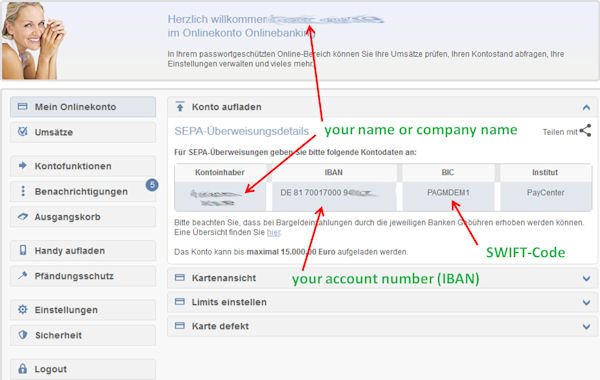 Now you can already receive payments. Your MasterCard can be ordered as soon as you have completed the legitimating (see above).
Note: Private online accounts can also be converted into business accounts at a later date. The account number will stay the same.
Please remember that one must always specify the personal name of the account holder in a private account, for example "Joe Smith". At this account for business purposes, the account name can also be the company name, for example "Florida Business Consults".
Basically, the online account of PayCenter can also be opened for legal persons such as GmbH, Ltd, Inc. However, this instruction was specifically developed for the account opening of a business account for self-employed people (without legal entity and no commercial register entry).
"Open the business account online now"
… immediately ready for use!
Questions on the account opening or usage?
You can ask questions about the account opening or usage of the online account of PayCenter anytime via the comments feature of this page. Good luck with your new German account!
I almost forgot!
1. You have the option to let your MasterCard get printed with a certain motive. For example with your company logo!
Simply upload the corresponding graphic to the online banking system.
2. Currently, the account application as well as the online banking is only available in German language. However, we are commuting to the provider that it would be desirable to additionally offer an English version. With our instructions in English, we help to bridge the time as good as possible until the English language versions of the account and banking app are available.
Nevertheless, we are happy and grateful that the account opening for self-employed people (business account) from abroad without an address in Germany became possible.
Addition 2/2017:
English language of the account application, as well as the online banking, will be introduced in 2017, one can contact the customer service already in English.

Besides the PostIdent-procedure, also the VideoIdent-procedure will be introduced in 2017, so that one can easier open the account online and also complete the statutory legitimating procedure from abroad.

Details on the authorization for account opening: the account opening is possible for all people living in Germany (address, place of residence) independently of their nationality. The account opening is also possible for EU-citizens outside Germany, but with a place of residence within the EU. The account cannot be opened for non-EU-citizens outside Germany.

Therefore, the account can also be opened for EU-citizens, who live in Great Britain – but not for US-Americans, unless they have an address in Germany. Everything perfectly clear?
30 Responses to "Open a business account in Germany for self-employed: The 5 minutes solution ✔"