"Our" securities account for smart bank customers
Comdirect Depot (securities account) ⇨ 9 reasons for and 1 against!
Dear depot-interested-party,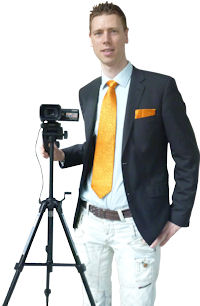 my name is Gregor Janecke and I have access to 7 Comdirect depots.
As an entrepreneur, I opened the first depot for our Ltd for the commercial reserve in the year 2009. Further private depots for the family (including junior-depot) and a power of attorney for a friend were added in the course of the years.
You can trust in me that I have created this page for you with heart-blood and quite some experience. Of course, I cannot know everything and some things also change.
Please feel invited to ask, supplement and possibly report using the comments feature at the end of the page. Many thanks!
I recommend the opening of the Comdirect-depot
Why and how one can cleverly use the Comdirect for building asset, you will find out on this page! If you need a little help with opening the depot, then there is an ► instruction for you and the author is pleased to help at questions!
The following points were important for me at the depot opening:
free depot management (no annual fee)
besides online trading, also orders through telephone or mail are possible
set, change or delete limits free of charge
fully developed banking-app (you can (re)act on the road!)
up to 100 % discount on the initial sales charge of funds and ETFs
securities loan for top-conditions
super-cheap savings plan on single shares (e.g. 25 € monthly on Siemens)
pretty good telephone hotline (24/7), as well as even better contact partners at capital gain
easy online depot opening:
Let's go through the points together:
1.

Free securities depot

Of course, this is the standard of good to very good depot providers. This is why it also applies to the Comdirect. However, there is a huge number of other banks that charge a quartely or annual depot management fee!
2.

Great online banking with the alternative of telephone/mail

Of course, also other depot banks have good order-masks and overviews. This is what you wish to have in a securities depot. That is not a unique selling proposition. You will see in the course of the article that quite a lot of good points are gathered at Comdirect.
Here a screenshot of the order-mask:
One feature that I particularly love …
… is the possibility of taking notes directly at the securities postition in a free text field. Herein, I like to write about what I thought of when buying or when I want to sell again. Often also notes of already made partial sales, such as in this example:
Telephone order or through mail is possible as an alternative
Usually, one makes the securities orders through online banking or app. The Comdirect is designed for that. If that should not work out – for whatever reason –, then one can do it by phone or, if there is enough time, write a letter to make the orders.
At such order, a banker works manually for you, this is why there is a surcharge for telephone or mail orders in the price listing. But you are capable of acting in e.g. emergencies!
Capable of acting in emergencies!
At this point, most of the cheap brokers are eliminated, because they do not offer such a variant at all.
I can remember that the telephone surcharge was not charge out of goodwill–, because something had to be adjusted anyway by phone. Thanks! 🙂
3.

Working with limits

If we talk about setting purchasing or sales limits, then we have already arrived at the subject "strategy". We deal with that in detail in our program to financial freedom. This is why it is only mentioned briefly on this page.

Sometimes, I am so convinced of one security, which could be a company or a commodity, that I would like to buy more. At the current rate? Hm, rates fluctuate and therefore, I make a later purchase order at a lower rate. This is only implemented, if the stated rate is reached.

At the Comdirect, one can send such orders with a term of validity of 1 to 365 days. This is a long time. Therefore, there can be desires of changes or even the need to delete not-implemented orders. For example, to free the overdraft facility.
The setting, changing and deleting is free!
Competing banks still charge fees for that, but most of them do not anymore. At the Comdirect it is free, as often as you want!
4.

Banking-App

Admittedly, I use the banking-app quite rarely. I do my depot-things almost always from home and if I am on a journey, I use the online-banking from my laptop.

But am I the standard? No.

There are some smart bank customers in our community, who use the banking-app regularly or even mainly on the road and from the place of work. 😉
Mobile capable of acting
The Comdirect has made outstanding conditions with its banking-app, so that you can (re)act on the road with your Comdirect-depot!
5.

Up to 100 % discount on the inital sales charge

Who wants to invest in funds/ETFs, has two possibilities:
1. Purchase through the stock market (herein, order fees apply) or
2. Purchase directly at the investment company (herein, usually an initial sales charge in the amount of 5 % at equity funds apply).
Do you want to pay a Euros 6 fee for ever Euros 100 inversion amount?
No, of course not. We German people are quite price-sensitive. This is why many good depot providers abate this fee in cooperation with the investment company.
You do not have to worry about the bank, because as long as you keep the funds in the depot, the bank receives a portfolio commission payment. In the industry, one speaks of "kickbacks". This is by far not that high, but regular. You do not have to bother; these costs are included in the management costs of the funds anyway.
Enjoy the discounts at the purchase.
This has a long-term impact especially at funds savings plans!
Moreover, one can find some funds as savings plans at the Comdirect that are not savings-plan-able anywhere else! For example the funds to the book "High Returns from Low Risks" that became savings-plan-able with our research and report.
6.

Use the securities loan cleverly

If you have build up a securities portfolio of Euros 3,000 or more in the Comdirect-depot, then the option Wertpapierkredit beantragen (apply for a securities loan) is activated for you. Please take a look at the following paragraphs, even if you currently do not want financing.

The securities loan of the Comdirect has several advantages compared to other depot providers and other loan providers, because on the one hand, it is completely Schufa-free (no query, no entry) and on the other hand, it is by far cheaper than other financing forms. When creating this page, the interest rate was at 3.9 per cent.
Why is that so?
Because you have a creditworthiness! Your securities asset speaks in your favour!
Technically, your securities serve you as a security and enable an access to a cheap bank financing without the otherwise necessary income check.
Some smart bank customers perceive this point as quite comfortable and agree that it makes sense to build asset, especially in the Comdirect-depot!
For what can you use the loan?
For anything you want!
The use is free and is not checked by the bank. You can, for example:
replace other expensive loans
finance assets outside the depots (e.g. company establishment)
finance assets inside the depots.
Especially at the last point, the purchase of shares using a loan, should be made with precaution. But as with everything else, it depends on who and with which education and strategy sits in front of the online banking.
It can me meaningful e.g. to set limit-orders at deep prices to take advantage of the scrounge rate. This, of course, only happens, if those are reached. If you set such order at several securities, then the overdraft facility (account balance) is completely blocked quite fastly. Herein you can use the framework loan of the securities loan virtually free of charge.
As you can see, this subject is comprehensive … this is why I have worked on a separate page for you: Securities loan ⇝ Implement ideas geniously.
7.

Securities savings plans from Euros 25

I love this point at the Comdirect-depot. You can set up more than just savings plans on funds and ETFs, but also on single shares!
Savings plans possible on single shares!
My older daughter likes McDonalds and my son Coca Cola. I have set up her Junior-Depot, so that shares of McDonalds or Coca Cola are bought monthly for Euros 25.
A single share at both of these world corporate groups costs, of course, more than Euros 25. The Comdirect skillfully books "fraction-shares" into the depot. For example, one can have a 0.34 share of a company through the savings plan, which would otherwise be completely impossible.
And the fees for that?
They are super-low: only 1.5 per cent.
The Comdirect gets per savings plan order in the amount of Euros 25 only Euros 0.38 in fees! Have you ever heard of such a cheap share-purchase?
The savings plans can be implemented monthly, bimonthly or quarter-yearly.
Even with Euros 25 per month (and child), one can set up an own equity fund, if one sets up three shares as a savings plan with a quarter-yearly implementation.
Why this makes sense, is discussed in the program to build asset.
Savings plans of my youngest daughter:
8.

24/7-telephone support and option of Comdirect First

According to my opinion, Comdirect has one of the best telephone-services of all German banks and you can imagine that I, being the operator of this special portal, have made thousands of calls to banks in the past 13 years!

Of course, not every telephone conversation is equally well, but after entering the access number and PIN through the telephone buttons, almost every time someone is answering immediately and asks, whether one is talking to Gregor Janecke. A short waiting time is only very rare.
Speaking with the bank on a Sunday night? It is possible!
I have called the Comdirect also at night and on Sundays. For example, due to the time difference on journeys. That works flawlessly.
Of course, not all departments work around the clock. Therefore, it can be that you get a call on the following working day from 8 a.m. or if desired, a response via e-mail at some matters.
Comdirect First
A side-effect of our program for building asset is to rise you to the status of Comdirect First. With this, you receive a special telephone number and e-mail address to the first league of customer assesors, have longer login-times (the automatic logout can be delayed up to 1 hour) and another extras that we deal with in detail in our program, as soon as you are ready.
Certainty that you are at the right bank!
If you are already owner of a Comdirect-depot or open it today, you can be certain that you are at the right bank: Very outstanding services for all customers … and with the depot-growth, you get another few extras on top.
9.

Easy online depot opening

I still remember how I opened a securities depot in a branch bank. That took a felt eternity with a lot of questions, documents and signatures. Yes of course, the documentation effort has become bigger through the legal requirements. Nevertheless, it depends on how you solve that being a bank. The Comdirect solved the procedure of opening quite well for us customers.

You can use this link ► https://kunde.comdirect.de/cms/lp/depot_anleger and get directly to the page of applying for a depot. Just click on the button "Jetzt Depot eröffnen" (open depot now) and follow the procedure.

The procedure takes you through all steps, from entering the personal data to your current securities experiences up to the completion with the legitimating. You can choose between the proven PostIdent-procedure or the new VideoIdent. Both is free of charge for you! Just like the entire depot!
For everyone, who needs a yellow button to click:
What people of my environment say:
"Best depot ever!"
"Ideal for building asset"
"Fortunately, I switched there!"
PostIdent or VideoIdent?
After the online application, you have the option of a) printing the application documents including the PostIdent-coupon yourself or let it be sent to you by the bank. You visit a post branch office of your choice with the PostIdent-coupon and your ID-card/passport and let your identity be confirmed. This procedure is free of charge for you.
Option b) is also free of charge for you. You can make the identity check via webcam immediately after the online application or at a later point of time. If you have never done this before, then you can find a detailed instruction with pictures and photos. No one can say that we do not train our smart readers. 😉
Yes, these were the 9 points that speak in favour of the Comdirect as a depot bank. Do you have further points? I am curious and look forward to your supplements through the comments feature!
I still owe you one point …
One reason that speaks
against

the depot opening at the Comdirect!

As with many providers on our special portal, one can open the Comdirect-depot also without a place of residence in Germany. One can even get a securities loan without a place of residence in Germany, which is almost impossible in all the other loan types!

We have some people in the community, who have applied for the depot from Austria or Switzerland and have managed to get it. Sometimes, the legitimating is a challenge. But who wants to get it, will find ways. The Comdirect is also common for Germans abroad, who live for some time abroad or have completely emigrated.

A depot opening with place of residence or tax collection in the USA or Canada is not possible. If that applies to you, then I cannot recommend to fill the application for account opening. This won't have a happy ending.
I can recommend the depot opening at the Comdirect to everyone else
If you still do not know what to do with your recently opened depot, then join our program to build asset.
Link of the bank ► https://kunde.comdirect.de/cms/lp/depot_anleger (depot opening)
As always: questions and supplements throught the comments feature. Thanks!
Video to the article (with further experiences):
3 Responses to "Comdirect Depot (securities account) ⇨ 9 reasons for and 1 against!"