Julia is a customer of the DKB since 7 months
Experiences with the DKB-credit card
Last summer, Julia (22) came asking for advice to this special portal and as a consequence of her subscription to the Sunday mail, a nice exchange regarding the most adecuate credit card for her upcoming stay in the USA arose.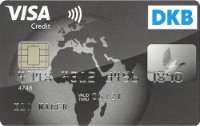 Free, but powerful!
Back then, I recommended her two thrilling credit cards. Julia opted for the DKB. Why and what experiences she has made with the DKB-credit card abroad, you can see in the video, which she has recorded exclusively for our readers:
The most importants facts in a summary:
free credit card of the type Visa Card
fee-free cash withdrawals at third-party ATMs around the globe
fee-free card payments in all currencies (= no foreign transaction fee)
true credit line up to € 15,000 (up to 3-times the monthly salary, if it is transferred to the DKB-current account; credit card also useable without salary transfer, it can be recharged with balance unlimited)
up to 30 days interest free card transactions, consequently the automatical settlement with the DKB-current account
free emergency card and/or emergency cash within 48 hours around the globe
orderable online 🙂
Further information and card application ► www.dkb.de/kreditkarte
Notes and experiences with the DKB credit card
The DKB Visa Card can be applied for and used solely as a credit card for journeys. Actually, a big part of the customers do it. It is free of charge in any case (no annual fee) including the automatically opened current account and some additional services.
It gets really exiting, if you arrange to transfer the salary to the DKB-current account, because one can take advantage of a credit line – on the Visa Card, as well as an overdraft facility on the current account.
Attention: trick!
A way in between would be to deposit quarterly Euros 2,100 – these are converted Euros 700 each month – to the DKB-current account, in order to get the privileged status "DKB-Aktivkunde" (DKB active customer). With this status, no foreign transaction fee and the otherwise usual fee for emergency card or emergency cash do not apply.
By the way, the Euros 700 do not have to be a salary or pension payment. It is enough to set up a standing order to the bank, just like some of our smart bank customers do.
If you want to test the DKB-credit card first to make your own experiences with the card and account, then you do not have to worry about being an active or non-active customer. New customers can always enjoy the privileged conditions for free during the first year. Therefore, you have enough time to take your decision on how intensively you want to use the DKB in the future.
You can find the detailed differences between active and non-active customer on this page.
Recommendation for you:
Apply for the DKB-credit card and look forward to make your own experiences. 🙂 It won't cost you anything, guaranteed – just a little of your time! But what can you gain? At least one of the best German credit cards and perhaps a lot of further good experiences!
Please let me know, if it worked with the credit card and what experiences you made as a consequence. As I am a passionate traveller, please state your country too, if you are on the road abroad.
… and it does not have to be a video: I would be glad to read your short feedback through the comments feature directly below the article.
Apply for the DKB Visa Card now
… the most attractive free credit card!
Julia´s experiences to read
Because I know that some of our subscribers prefer to read instead of watching videos, you can find Julia´s video here to read:
In this video, I tell you why I decided for the DKB Visa Card and which experiences I have made on my current stay in the USA. At the end, I have a personal advice for you.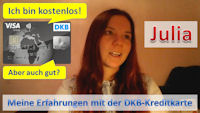 Why is this video published for you today?
Gregor, who writes this blog here, thinks that it can help people to decide for or against the DKB-Visa-Card.
I visited this website here to find an appropriate credit card, which is free of charge, very easy to handle and does not cause any other problems, in the best of cases.
Contact was made through the comments feature
I have contacted Gregor through the comments feature here, and Gregor has also helped me through the Sunday mail to find the right credit card according to my requirements.
So, I became a customer of the DKB, applied for the credit card and received a free current account on top – which is quite practical.
Card, account and almost everything else is free of charge at the DKB.
Is DKB short for "Deutsche-Kostenlos-Bank" (free German bank)?
Also for withdrawing cash, the bank did not charge any fees – and this worldwide, which is super important for me, because I am currently in the USA, I am a student and desperately need every cent of money.
Make the account opening on time
One can apply for the account only online, and this should be done at least three weeks before departure, so that one has enough time to get the letters and the access data, the cards and also to test their functionality.
I have applied for the card about three weeks beforehand, so that I could test it at home in Germany and in the case that something goes wrong, I would not be helpless in the USA and without a dime.
In my case, everything went great and was very easy.
I received all letters that I needed after about two weeks and was able to set up everything without problems. I am not quite a bank expert, but that was really easy and something that anybody should be able to manage.
Account opening only possible online
The verification through the WebCam-feature was very simple and may took about two minutes.
This also works at a rather unhuman hours, as it was midnight in my case, and this was absolutely no problem. It did not even take a minute until someone appeared on the screen for me. I held my ID-card in front of the camera and it worked flawlessly.
Although I am a student with a low income, I got an initial credit line of Euros 500.
If one arranges to transfer the salary there, then this is increased automatically. But due to the fact that I do not have a real income here (in the USA), Euros 500 are quite alright – although not sufficient, especially because I love to travel. If one rents a car or the like, one needs a little more money on the credit card.
Tip and experiences with the credit line
Then, I got the tip from Gregor that one can transfer the money from the current account to the credit card and can spend the recharged amount, plus the according credit line.
Depositing also has the advantage that one gets interest – not too much, but Euro 1 each month is not bad at all.
In New York, I pay almost everywhere with the DKB Visa Card, because one is not using any cash here and it is more practical and faster.
One of the most important points here for me is that paying is, of course, always free of charge, otherwise I would have a problem. One cannot use Girocards a lot – that means that one can do it, but it is quite expensive, because no one has a Girocard here.
Cash abroad
I pay some snacks in cash. I really like the possibility of the DKB to withdraw cash anywhere in the world for free – free of charge only on the part of the DKB, I have to emphasize, because it is customary that ATMs charge fees in the USA – sometimes more, sometimes less.
One could get a refund of such fees in the past. This is not possible anymore, which is a pity.
Instead, there is no expensive foreign transaction fee anymore.
This is deducted at first, but one gets it back at the end of the month and can rejoice of this amount – I have received e.g. converted US-Dollar 15 and this is very nice and feels like a little extra bonus that one gets.
Sometimes there are also ATMs that do not charge any fees at all.
I have found such an ATM here in the Walmart supermarket on the Hudson Avenue. This is very cool: especially if one stays in the USA for long, I would suggest to look for such ATMs – and if found, note it and go there, if cash is needed.
Telephone availability around the clock
I particularly like that the telephone customer service is available around the clock. There are six hours of time difference between New York and Germany and I want to get direct information in the case of doubt.
In one situation, in which I did not know what to do, I called to Germany in the middle of the night. It was only evening in New York and everything worked out great.
If you want to know what it was about, then just write comments below the video. Perhaps I will make a second video then.
My advice for you:
Save the phone number of the hotline to your cellphone or write it on a piece of paper that you put into your wallet. If your cellphone gets lost, then this could become a true life saver.
If you are, just like me back then, looking for a good account and a good credit card for a stay abroad, then I really can recommend the DKB. I would certainly choose it again.
Greetings from the snow-covered New York. See you soon, maybe in a second video!
"Apply for the DKB Visa Card now"
the most attractive free credit card!
Questions? Further experiences?
Julia is available for questions through the comments feature. Of course, me too. Likewise, we would be glad, if you could report of your experiences. Especially, if they contain tips for following readers. Many thanks!
Oh yes, if you think that Julia did a good job with the video, then we would be grateful for a full 5 star rating of this article. Thank you!
Supplementary and frequently read articles
2 Responses to "Experiences with the DKB-credit card"