Inclusion of a new prepaid credit card with account function
VIABUY MasterCard without name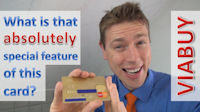 The Viabuy Prepaid MasterCard is not an ideal option for every one of our smart readers!
Especially not, if you are looking for a new credit card for journeys, because Viabuy charges a foreign transaction fee (2,75 %) and fees for cash withdrawals (€ 5).
However, we would not include Viabuy in our exclusive list of observation, if this provider could not serve as a solution option for challenges of some of our readers! 🙂
1. Things that make Viabuy thrilling:
Account opening and card issuing without creditworthiness check
Commercial account and card use allowed
Freely choosable name on the card (e.g. company name instead of first name and last name)
Elegant design with embossing
Residence abroad possible: card delivery to 33 European countries
Card shipment within 24 hours
100 % online account opening (no PostIdent required)
Go directly to Viabuy: https://www.viabuy.com/
After reading these key points, one quickly notices for which scenarios Viabuy can be a great solution.
2. Viabuy can be a great solution here!
Self-employed persons and freelancers

Self-employed and freelancers tend to have a more difficult time to get a current account with an outstanding credit card at German direct banks.

Due to their professional background, they often get a lower credit line and may not use this account for business purposes. A business account is usually associated with higher fees.

In comparison, the fees of Viabuy (see below) are low and you have the opportunity to e.g. emboss your company name on the MasterCard.

At Viabuy, the commercial use is permitted, but please take a look in detail at the exact information, which has been prepared here for you: Viabuy as a business account.

Individualists

The freely choosable owner name on the card is already a special feature. I cannot remember to have seen something similar before.

You have 21 characters for your card name.

If your name is e.g. "JAMES BROWN", you can also write "JIMBO BROWN" on the Master Card.

However, expect that the desired name will be checked.

Variations of your own name, obvious nicknames like "Bill", the own company or domain name have a high chance to be accepted. Names of celebrities or names of other companies not.

Also expect that the examination will delay the card shipping. See my own experiences below.

People living abroad

Many people in Europe, who do not belong to the Euro area, wish to have a Euro account, but have difficulties of getting one. Anyway, if the IBAN shout start with "DE".

Viabuy offers its service in 8 different languages and sends the card to currently 33 European countries. Additionally, you can perform the account opening online from anywhere in the world.

8 languages, 33 countries

People, who do not want to have another account or credit card entry at the Schufa

As you may know, it is not necessarily beneficial, if you have more than 5 bank accounts stored at the Schufa (German credit investigation company).

Viabuy does not request the creditworthiness at the Schufa and does not enter the MasterCard either.

No matter how your past looks like – if you reside in one of these currently 33 countries, you receive the Viabuy MasterCard with your online order.

People, who need a card fast

After the online order, your card will be produced and brought to shipping within 24 hours. Within Germany, you receive the card usually within 1 to 3 days.

When shipping abroad, the transport time of the further delivery must be added.

If you need the card very urgently, do not select a special name, because the examination is performed manually and, if necessary, takes time. See my own experiences below.
Can you think of further scenarios?
3. Fees
Viabuy is financed through fees – in contrast to most banks that offer free current accounts with free credit cards, which are cross-financed.
If you want, you can see that as an advantage: everyone at Viabuy pays the fee in the same amount. And thus everyone has the same right to use. At Viabuy, nobody is cancelled, because of becoming "uneconomical" through using the card to much or too little!
The account maintenance fee at Viabuy is Euros 2.49 per month. This is a conversion made by me!
The price list states: one-time activation fee Euros 89.70 – no annual fees in the years 1–3. From the 4th year, the annual fee is Euros 29.90.
This is an equivalent of Euros 2.49 per month. You can choose the price indication that you like best. 😉
The "activation fee" perhaps sounds expensive to holders of free current accounts, but please remember that there is no cross-financing through other product lines at Viabuy and that most of the costs are associated with the order, the order processing, card issuing, the shipping and there is a higher request of the customer service during the first days.
2. My experiences
Decisive for my card order was that one can choose the cardholder name freely. Moreover, I also like to test the account and card for myself before I write about it!
Depending on what name you choose, you may even pay anonymously! In my case, not entirely anonymous, because I have chosen our domain name. 🙂
Relatively anonymous payments are possible.
Expect that if you make use of this option, the card production will be somewhat delayed. I made my Viabuy order on a Monday and the card arrived on Thursday.
If I would have chosen to get the card issued on my first and last name, I would have received it on Tuesday or Wednesday. However, this does not matter, as the first deposit – which I have made without charges through bank transfer – had to be entered first.
Moreover, you have the possibility of charging you card account with immediate effect through an instant transfer, PayPal or debiting of another credit card by paying a fee. I have also already tested successfully the debiting by Giropay and credit card.
I have tested the charging and transfers already successfully.
The identity verification – for me pleasantly uncomplicated – took place with an identity query at the Schufa. Please do not confound this with a creditworthiness check at the Schufa. These are two completely different things and both have no interaction.
I guess that this has happened in the context of the examination of my desired name on the card.
Usually, you will be prompted to upload identification documents and possibly a proof of address online. Nevertheless, this short ID-verification can only be done, if one has a place of residence in Germany. The account can be also opened in many other countries.
You can read about further details on the use of Viabuy in this article: Viabuy MasterCard with account function.
Ideas and experiences?
Are there people among our readers, who think that Viabuy is an interesting option, or are there even some, who already have the card and can complement this article with their experiences and tips?
I look forward to your feedback, suggestions, experiences, tips and of course questions. Please use the comments box at the end of the article. Thank you very much!
Note
Perhaps, Viabuy is not a substitute for a full bank account in Germany, but for people, who do not have a bank account in Germany, the Viabuy account function (receive and send transfers with German IBAN) is a "lifesaver".
Alternatively for our travel-loving readers with place of residence in Germany and Austria:
DKB Visa Card (worldwide free cash withdrawals without foreign transaction fee)
Gebührenfrei MasterCard (card payments without foreign transaction fee)
For conclusion, the announcement video from our YouTube channel
Here you can subscribe to our
Youtube channel
in order to not miss any new videos!
The video proof: