Euros 500 immediate loan, more possible later!
VEXCASH ⇒ loan payment already today!?
Vexcash is the German solution, if you urgently need money! At a successful application until 2 pm, the loan is paid already today via express option.
Requirements for the fast loan payment: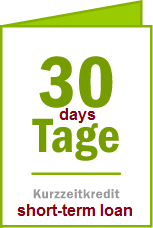 18 years or older
place of residence/address in Germany
possibility of document upload(e.g. photo via Smartphone)
own current account in Germany for the loan payment
legitimating via VideoIdent or in a bigger post branch office
⇒ Immediately to the loan application and payment
(https://www.vexcash.com)
---
If you have enough time, then read this specialized article with attention, because I will reveal here, how you can get the most favourable loan through Vexcash and to what points you have to pay attention to in order to not pay expensive fees.
1. You have suspected it since long, didn't you?
What most people intuitively know: banks earn most money through loans. In order for the bank to earn a lot of money, the loan amount should be as high as possible, have a long term and the borrower should have a very good creditworthiness.
At a short-term loan, it is exactly vice-versa:
Loan term 30 days
as an existing customer at Vexcash, you have the possibility to get a loan of up to 6 months lateron.
Loan amount up to Euros 500
as an existing customer, you can apply for amounts of up to Euros 3,000 lateron.
Average creditworthiness
people with a very good creditworthiness hardly deal with short-term loans, as they often dispose of an overdraft facility, credit line or the credit line of a credit card.
Banks avoid short-term loans, because they do not make money through them!
2. The most favourable loan of Vexcash
What do you notice in the standard offer of Vexcash?
Frankly speaking: this is not a lucrative deal for Vexcash! As the legitimating via video or post costs already Euros 10 – and this is borne by Vexcash for you! Of course, Vexcash has further costs of documentation, processing and staff.
The nice thing:
you can use the offer as often as you want!
The most favourable loan of Vexcash is the permanent standard offer, which is available to every new customer and every existing customer! The key data is:
Euros 500 loan amount
30 day term
13.90 % lending rate Euros 5.45
3–4 days until the payment.
If you repay the short-term loan within 30 days completely – you receive an e-mail, in which you can find the exact amount, the date and the account number – you can apply again for exactly the same loan.
"Cheaper is impossible!"
… apply now for the most favourable loan!
3. The express-loan of Vexcash
However, there are situations in life in which it is not enough receiving the money next week – one needs the money immediately!
Vexcash has developed a solution exactly for this problem. It helped many people to watch this video (from minute 1:52 the express-option is explained):
3.1 The express-option in detail
At the express-option, you receive your loan on the same day:
up to Euros 500 for new customers
up to Euros 3,000 for existing customers
existing customers are people, who have already received a loan from Vexcash and have repaid it on time.
3.1.1 The sequence
Set up a customer account

For this purpose, go to www.vexcash.de and follow the procedure of the loan application.

Upload the necessary documents

In your customer account, you have the possibility to upload documents. For example, the proof of salary, if requested. In any case the loan agreement. You need a possibility to print, sign, scan or photograph the agreement and upload it afterwards.

If you should not have these technical possibilities, ask for sending the documents by mail. However, the payment on the same day will not be possible in this case.

State bank account for the payment

State the current account in your online customer account to where you want your loan to be paid. Please note that it must be a DE-IBAN and that the account must be held in your name.

With this, it should be avoided that people apply and get paid a loan on behalf of a third person. If you do not have an own current account in Germany … this online current account is opened within 2 minutes and you immediately receive a DE-IBAN.

Identity verification (legitimating)

It is determined by law that the identity of the customer must be verified at the conclusion of a customer relationship with a bank. At Vexcash, you have the possibility to do this via webcam. For this, you need your ID-card or passport. The legitimating through webcam takes about 5 minutes.

Alternatively, you can get identified through the Deutsche Post. As soon as the identification at the post is done, the data is transmitted electronically to Vexcash. Please prefer bigger post branch offices. The electronic sending system apparently does not work anymore in smaller post branch offices.
Done, your loan is paid!
4. Frequently asked questions about the Vexcash loan
Some important questions and answers follow that where asked frequently by borrowers and that are important to unterstand the loan offer correctly. Please read them carefully.
If something should be unclear or your question should not be answered here, please use the comments box at the end of this page. Our editorial staff would be pleased to help explaining how to get a loan payment through Vexcash.
4.1 Is any person able to get a loan from Vexcash?
No, of course not. There are general requirements (e.g. older than 18 years, place of residence in Germany) and the personal aptitude (e.g. one cannot be in a private bankruptcy).
However, true is that many people, who were previously rejected by a bank, get a loan through Vexcash. The background is that other creditworthiness requirements apply to a short-term loan.
Whether you get a loan from Vexcash, one can only say, when you have applied for a loan with the opening of a customer account. This is free of charge and risk-free for you.
If Vexcash cannot pay you a loan due to the creditworthiness check, then you did not have any costs either! All incurring costs are borne by Vexcash.
4.2 What happens, if I book the express-option, but it is later than 2 pm?
Your loan will be paid anyhow with an express-transfer. However, one cannot guarantee that it will be paid to your account on the same day. Different banks have different booking procedures.
The payment usually takes place on the next day.
4.3 How does Vexcash earn money?
Vexcash earns through the optional additional services. For example, if you book the express-option or prefer to repay the loan in several instalments up to a term of half a year than within 30 days.
Our recommendation is taking the most favourable loan (see point 2). This is a standard short-term loan without additional services. It only costs Euros 5.45 for 30 days at a loan amount of Euros 500.
However, there are situations in life, in which
one needs the loan immediately or
one can only repay the loan later.
In theses cases, fees apply that finance the business of Vexcash. These are Euros 39 for the express-option (included are the fees for the express-transfer, for which banks charge a huge amount) or Euros 49 for a payment in instalments in the months 1 and 2. These fees are independent from the amount of the loan. For instalments in the months 3 to 6, there is a percentage fee regulation.
We recommend to our readers to set the loan agreement, so that these fees do not apply. Of course, we have often heard that people were jolly glad to bridge a financial bottleneck with the short-term loan and that the fees were less important.
Perhaps, one can compare this best with the situation of needing a key service on Saturday night. The costs are also higher, than buying a replacement key during the following week.
4.4 Can I repay the loan anytime?
Yes, you can repay the loan completely at any time. However, the interest will be the same. If you e.g. choose the cheap standard offer of Euros 500 with Euros 5.45 interest for 30 days, the Euros 5.45 will always apply, even if you repay the money already after half the term. Please pay attention to repaying on time. On the last day or earlier!
4.5 What if I cannot repay the money within 30 days?
Then, there are Euros 0.20 late payment interest for every passing day. At a missed deadline of 2 to 3 days, this is not worthy to worry about. However, a reminder note will be sent to you (Euros 3) and the possibility exists that your case is forwarded to a collection agency.
Recommendation: if you foresee that you won't be able to repay on time, then call Vexcash and agree on a solution. For example an instalment. This will be more expensive, but an amicable agreement has no negative consequences.
4.5 What are experiences of customers of Vexcash?
As with any provider, there are also a few negative experiences or critical feedback. This is normal. At the time of creating this article, more than 96 per cent rated Vexcash being good to very good.
5. Conclusion and recommendation for action
Vexcash is a special provider for short-term loans (30 days). It is an area in which loan banks hardly make business, because almost no profits are made – too big efford for too low loan amounts and too short terms.
If one takes the most favourable loan (see point 2), Vexcash does not earn money.
Vexcash only earns money, if the customers choose an additional option, which is subject to charge (express-loan, instalments).
5.1 Recommendation for action
We recommend our readers to only use the most favourable loan, as presented in point 2.
In the best case, one sets up a customer account at Vexcash on time and borrows the first Euros 500. Of course, one should repay them within the 30 days.
This is a very important step for building the creditworthiness at Vexcash!
Clever strategy!
At best, you repeat this step being an existing customers after 1 to 3 months. This costs you Euros 10.90 interest and you were able to use 2 x Euros 500 for 30 days.
Now you are considered a reliable and trustworthy customer and can, if you need it, also borrow higher amounts. You do not have to do this. But you have created a potential liquidity reserve at Vexcash, which you can dispose of as an existing customer within a few seconds.
Please note that the free loan payment takes 2 to 4 days, the express-payment, which is subject to charge, is possible on the same day.
For people, who want to finance real estate or a car, Vexcash is not the right solution. However, for people, who need to bridge a financial gap of a few days to up to a month, Vexcash is an outstanding solution! More than 100,000 persons have already taken advantage of the help of Vexcash.
Could Vexcash also be a solution for you?
"Set up a short-term loan"
… fill the online application now!
6. Survey: For what purpose do you use Vexcash?
In order to address the wishes and needs of our readers even better in the future, it would help us, if you tell us using the comments box, for which situations you want to use Vexcash. Many thanks for your commitment and good luck with Vexcash!
Please use the comments box!
Frequently read articles:
22 Responses to "VEXCASH ⇒ loan payment already today!?"