Loan-use is "free"... one can even go on vacations with it!
Trick ► How to get a loan up to € 5,000 within 24 hours!
The instruction on how to obtain a loan up to Euros 5,000 within 24 hours was created during the flight to Florida … Therefore, I have given it the name loan for vacations. You can also use the money for any other purpose.
The video guides you step-by-step. Perhaps, you want to watch it twice or pause it, when you implement the tips?
Go directly to the loan calculator ►
Loan-comparison through calculation tool
✔
In order to see the "Kredit2Go" as presented in the video, you choose a loan amount between Euros 3,000 and 5,000. You set the term to 36 months.
Accompanying article to the video:
Have you ever experienced the feeling that you just want to get out of your daily routine? I know what you feel. So I am booking now a trip to where it is beautiful, sunny and warm.
These are the best times of the year. A good idea, to gather strength, energy and prepare yourself for the next stage of life.
This article shows a trick in the loan calculator, on how to get an immediate payment! Please read the entire article.
There are people, who can pay such trips out of their petty cash. This article was not created for those people. I will show you a way how to get paid the financing of your next vacations to your account within 24 hours.
However, a warning upfront
Living from borrowed money never is a viable model for the future.
Sometimes, one must get out of the everyday life in order to set new goals for the future. And if you do something useful, just like me – e.g. training, establishing contacts or proving a business idea – at such cosy places and during vacations, then you can regard your loan for vacations as a meaningful and even necessary investment.
And something else: if you are among the people, who are heavily in debt, then our trick of the 24-hours-loan for vacations does not work.
An at least average creditworthiness is required. People, who do not have sufficient creditworthinesss for a 24-hours-loan payment, may take advantage of the loan payment within one week. Please take a look at the video or simply read the entire article.
The Sofort-Kreditentscheidung (immediate loan decision) with payment within 4 hours (Mon-Fri) is a loan program of Smava. It was created in order to enable people to get super-fast financing.
You can do whatever you want with the money!
The use of the loan is free and won't be checked. Therefore, you can make whatever you want with the money: go on vacations, renovate or repay an old (more expensive) loan.
You can imagine that a lot has to be standardized in order to make a 24-hours-loan payment possible. Among others, also the interest rate. I will show you this in a second.
Making the right settings step-by-step
Now, switch from this instruction article to our loan comparison. For this, click on the following link ► Loan-comparison through calculation-tool. A new window will open, in which the loan comparison is shown.
In order to get the immediate loan, you need to know the parameters that you have to enter into the loan comparison to get it shown.
The parameters are:
a loan amount of Euros 3,000 up to 5,000 (should be enough for vacations, in most cases)
a term of 36 months (if you enter another term, the Kredit2Go will not be shown – you can try this!)
free use

Click on "Jetzt vergleichen" (compare now).
Now you have to scroll down until the logo of Kredit2Go

You may ask yourself, why we do not choose a provider further above?
Very good question!
The rates are interest rates on offer. You get those, if you are among the best category after the creditworthiness check. Statistically, the probability is high that you are not in this category.
The basic system is simple: the better the creditworthiness,the lower the interest rate. This often makes sense. Don't you know that the interest is the price of the risk?
Loan interest, which differs depending on the creditworthiness assessment, is called creditworthiness-depending interest. Many loan banks work with this system.
This is different with our standardized Kredit2Go. It always has the same interest rate; this is why you can find it at 4.99 per cent in this table. By this you can recognize that this offer is generally created for a good creditworthiness.
Euros 5,000 loan with a fixed interest rate!
If you have an average creditworthiness or do not know your creditworthiness, please just continue with the procedure, because only after the digital creditworthiness check, you will get the loan proposals. Smava does not only grant own loans, such as Kredit2Go, but also mediates financing at other banks (online loan mediation).
Complete the loan application
The next step would be to click on "Weiter" (continue) and proceed by entering the personal data. Then, your creditworthiness will be calculated on the basis of your stated data, the Schufa-query, as well as possible data agencies.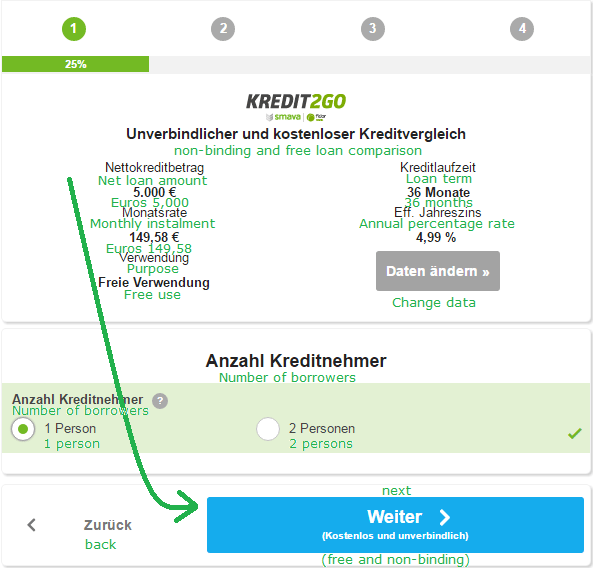 After the digital creditworthiness check, the loan offers will appear.
In the best of cases, you will be shown several loan proposals, from which you can choose one. Of course, also the Kredit2Go, if you are eligible for this special financing program in accordance with the creditworthiness check.
To be honest, I want to say at this point that about half of all loan applications do not get a loan offer after the creditworthiness check. Herein, the current creditworthiness assessment is that no financing bank can be found at the moment. And frankly said, some people, where this applies, know exactly why.
About 50 % get at least 1 loan offer!
Compared to a loan application at one single bank, a success rate of about 50 per cent is still outstanding! Moreover, the whole procedure is free of charge for you!
The costs for the loan only arise at a successful loan payment and are automatically included in the loan interest.
If you have several offers after the creditworthiness check and decide to take the Kredit2Go, then you do not have to submit documents. No proof of salary, nothing – you only have to give read access to your current accout. This works similar to the account switching service (article in German). It is a very slim and fast loan procedure. Just the legitimating required by law must be performed. This can take place fast and comfortably through a video chat (VideoIdent).
The next steps:
Afterwards, your loan is transferred immediately to your current account. Due to the fact that a payment in Euros in the SEPA-transfer system must be credited on the same or latest on the next day, the loan payment within 24 hours works in 90 per cent of cases.
If the Kredit2Go is not shown to you after the creditworthiness check, but other offers, then you can still think about choosing one of the others. You will possibly be prompted to upload further documents, such as proof of salary. If you do not have such technical possibilities, you can send copies by mail.
The loan payment will then be delayed by the sending period. Without Kredit2Go, the average payment time is currently 4 days. Is that fast enough?
Here for you the loan comparison tool shown as in the video:

New:
Preset for you already with the "right" parameters:
Further helpful pages for people looking for loans:
Questions about Kredit2Go?
As far as we can, we would be pleased to answer general questions about Kredit2Go and about Smava through the comments feature. Please note that we cannot say anything specific about a loan application, because it is subject to the bank customer protection.
We work as an editorial and help smart bank customers with our postings, so that they can open and cleverly use the right bank products. However, we do not decide on loan applications. This is done by the corresponding providers.
PS: Do not forget: the Kredit2Go is currently only available for amounts between Euros 3,000 and 5,000 at a term of 36 months. Other loans are possible through the same calculation tool.
6 Responses to "Trick ► How to get a loan up to € 5,000 within 24 hours!"