Using the combination of online and branch office to one´s advantage …
Postbank in Germany
Not everything of the German Postbank is really good.
However, on this page, we want to present the really good services.
This can be interesting especially for those, whose life was not that picture-perfect. It will be easier for them to obtain a bank account at both top banks (DKB, Comdirect) of this special portal.
Direct banks work mainly with standardized processes and leave little room for special strokes of fate. One can also use the account of the German Postbank online, however, one has additionally the possibility to visit one of the many branch offices in order to speak personally with a banker.
Current account for everyone
The Postbank offers several current accounts; here you will find a summary of the most important commonalities:
free account management possible
free Postbank Card
free cash withdrawals from about 9,000 ATMs in Germany
in combination with the Sparcard 10 × per year free cash withdrawals abroad
free Postbank Visa credit card possible
Online banking including Banking App
Account opening at the Postbank
Almost all online offers of the Postbank can be concluded in the branch offices too. This option has some advantages:
You can compare offers comfortable using the computer or tablet and obtain detailed information.

If you decide on an account opening online, then you can submit all data online. At the first account you will be asked to prove your identity (PostIdent) at a branch office of your choice. Done once, you will be able to open all further accounts online by yourself.

If you prefer personal support, you can open the bank account directly in the branch office.
We recommend starting the bank account opening online, because the conditions and offers are sometimes better online as in the branch office. Although you became a customer of the Postbank through the "online world", you can always use any of the bank branch offices of the German Postbank.
Exception: If you attach value to a personal consulting, then you can go directly to a Postbank Finanzcenter (financial centre). Or you can try the customer service of the call centre in advance.
Account opening from abroad
Basically, bank accounts at the Postbank (current account, savings account) can be opened for people residing abroad (e.g. Italy, Austria, Switzerland, Poland, United Kingdom, USA, Canada, Australia). For legitimating, one has to perform the PostIdent procedure at any post office in Germany.
Why some people have opted for the Postbank:
The Postbank is especially used, because it is represented throughout Germany.
Each main post office has a financial centre of the Postbank. Moreover, one can find many post office counters with banking offers in shopping centres and even in smaller stores on the countryside, like e.g. in beverage markets or bakeries.
Additionally, the Postbank is a cooperating partner of Western Union. Therefore, you can submit money transfers of the Western Union at post office counters. Here again applies following: there are lower fees with an online account of Western Union.
For foreign visitors, who would like to have a bank account in Germany, the Postbank can also be interesting, as there are Post office branches at big German airports and the German Postbank has experiences with customers from other countries.
Peculiarities of Postbank accounts
Online, phone, E-mail and branch office
Being a customer of the Postbank, one can almost do anything through online banking. However, you always have the possibility to contact the customer service via phone or E-mail, or visit directly one of the many branch offices.
Receive cash fee-free
Customers of the Postbank have many possibilities to obtain cash fee-free:
in all post branch offices within Germany
at supermarket checkouts of several cooperating markets
at almost every Shell petrol stations
at all ATMs of the Postbank
at all ATMs of the cooperating partner of the CashGroup (e.g. Deutsche Bank, Commerzbank, Berliner Bank)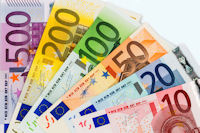 Tips when travelling abroad
With the Postbank Sparcard (free savings account), you can withdraw cash 10 × per year fee-free from ATMs abroad. The Postbank bears the fees!
One can apply for the Postbank Sparcard separately or as a supplement to the current account.
Bank statement printers and Mobile-Banking-App
If you quickly need information on how much money is on your current account or whether an expected payment has arrived, you can
insert your Postbank Card in the bank statement printer in any post branch office and you receive your current bank statement printed or
access your bank account through your Smartphone and the Banking App.
Summary: German Postbank
The German Postbank is one of the biggest German banks. The Postbank belongs mainly to the Deutsche Bank. As usual in big banks, there are good offers and not that good offers. Similarly, there are good and less good customer service staff members.
Thanks to the many branch offices of the post with the possibility of performing banking transactions, it is interesting for many people to open an account at this bank.
When applying for the first and any further account, please always pay attention to the fine print. The Postbank wants to earn money too. Thus, not everything is free of charge and quite a lot of new customers were surprised after opening the account and checking the first bank statement that some fees where charged for particular things.
"use the current offer of the Postbank"
… apply for the account now!
Use this special portal to exchange information about the German Postbank, give and receive
advice
. For this, please use the
comments box
at the bottom of this page. We, the
editorial staff
, will give our best as well and will provide further contents about the Postbank over time.
Alternatives to the Postbank:
Commerzbank
Who prefers a combination of branch office and online banking should take a look at the Commerzbank Germany's second largest private bank has great banking service offerings.
DKB
The Deutsche Kreditbank is especially popular among people because of their free current account DKB Cash, which does not need a branch office and the banking takes place exclusively online. Who passes the creditworthiness check, will get a free Visa Card including credit line.

Onlinekonto of PayCenter

Perhaps this is somehow an unusual offer: PayCenter is a provider, where you have to pay fees for the account management and account usage. This circumstance has an important background: the provider earns good money since years. It does not matter whether you use the account or not. That gives you two important securities:

your account won't be cancelled, if you use it "too much" or "too little".
account and provider remain permanently in this form (= virtually a guarantee of existence for the account).

The account opening is possible with a place of residence in Germany or abroad. There is no creditworthiness check. No Schufa query. No Schufa entry. The account can be used as a business account (corporate account). Soon, the online banking will be available in English too. The account opening is possible within 2 minutes: See all information.
Images: Deutsche Postbank AG and Gina Sanders (fotolia.com, banknotes)
86 Responses to "Postbank in Germany"