Join us and benefit!
Become an official FAN!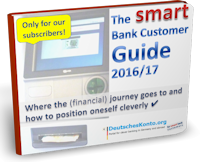 New and exclusive:
Currently, you receive the "Smart Bank Customer Guide 2016/17" with your registration free of charge for download!
Content: Banks / Current Accounts ∙ E-Money Institutions ∙ Account Abroad ∙ Securities Account ∙ Cash ∙ Loans ∙ Important Note
The DeutschesKonto.ORG Community is an invitation to you, our frequent website readers, to learn in detail about the founder of the site and other dedicated authors.
You decide for yourself to what extent you want to benefit from it. Here you can find the overview of the bonus offering for all people, who sign up as a fan:
direct access to the "secret pages"
practical emergency card
innovative video course to the DKB account
recorded online seminars
automatic update
exclusive theme-events
Advantages in detail
Direct access to the "secret pages"
Not every material that is produced on research journeys is later included in our published posts.
Some things are too special or too private to present it to first-time visitors of this special portal.
You as a fan have the opportunity to look further behind the scenes. Therefore, you can find especially exclusive picture material of journeys (commented with subtitles), as well as uncut (original) video recordings on the "secret pages".
Practical emergency card
Our emergency card contains all direct telephone numbers to block bank cards and credit cards.
The direct numbers are important, in order to not having to hold the line or being forwarded several times in an emergency.
The card can be used immediately: print, cut, take away.
Automatic Update
Our automatic update consists of 2 components:
Monthly update
(You will receive once a month an email that invites you to read new interesting articles, tests, ideas or offers on our special portal)
Instant update
(This is your chance to become a first reader of particularly interesting content. We will send instant updates only sparingly and only, if it is about something very important)
Exclusive theme-events
… will take place infrequently and always be for a limited amount of people, if we do them by ourselves.
The person, having the exclusive opportunity to get to know new ideas and people, is the priority.
Information on theme-events is only available via e-mail in advance. A reflection of it may be published in the public part for all the other readers afterwards.
Extra-Bonus
As DeutschesKonto.ORG is my absolute favourite portal since the idea of creating this special portal came into life, I make all produced reports in PDF in German language for our other portals available for free to our new fans!
These are:
Savings book Special Report (Euros 20)
Call Money and Inflation (Euros 25)
How to escape the inflation trap! – 2nd edition (Euros 37.70)
4 fatal mistakes about inflation (special edition)
The 3 most expensive mistakes, when buying precious metal (special edition)
Account-systems to financial freedom (special edition)
Just with this extra-bonus, you receive additions in the value of Euros 82.70 and one still has to add the value that you create for yourself through the knowledge that you can acquire and implement!
"Subscribe now and get the
Extra-Bonus

"
Golden Community Card in a bank card format!
Once we have 10,000 fans, there will be a public voting on whether we want to have a kind of fan card in a bank card format.
And if so, how should it look like and if it should be linked to additional advantages.
Until then, there is still a good deal of exciting, full of experience and valuable work to do.
If everyone, who can identify with our desire and has subscribed here, helps a little in the frame of his/her possibilities, whether it is an oral or electronic recommendation, then this will ultimately benefit us all through diverse content, tips and promotions.
And one thing is clear: I will pay for the production and sending of the card when achieving our goal. Promised! Gregor Janecke, initiator of DeutschesKonto.ORG
"Subscribe now and join us!"
P.S.: Nothing should keep you from becoming a fan of our community at DeutschesKonto.ORG, so any risk is excluded from the outset:
free of charge
(a special portal with focus on cost-optimized or free bank services obviously would not charge you any fee!?)
cancellation possible at any time
(by clicking the unsubscribe link at the bottom of every e-mail, you can unsubscribe from being a fan. By this, you won't receive any further messages of our fan system)
Pictures of the Gold Card: alexmillos, fotolia.com