Withdraw cash free of charge and get the foreign fees refunded through the:
Santander 1Plus Credit Card
That you can read this tip here, we owe to our dedicated readers and fans.
The Spanish Banco Santander operates in Germany the Santander Bank and the Santander Consumer Bank. Through the latter, a free credit card is offered online with the following terms and conditions: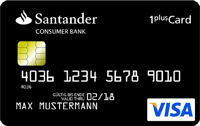 withdraw cash free of charge around the globe
worldwide 1 % fuel discount
up to Euros 400 fuel transaction per month
true credit card with partial repayment option
please note that interest applies to payments by instalments
simple online application for ordering the card.
"The only card with a foreign fees refund-option!"
What else should you know about the Santander credit card?
Credit line of Euros 2,000

Who applies for the credit card and is granted one, can be glad to use a credit line of Euros 2,000. This is the default at the Santander Consumer Bank for the 1Plus Card.

Increase the overdraft facility

If one needs more money, e.g. for a trip to the USA or Thailand, then one can make a transfer to the credit card account. With the deposited balance, the overdraft facility increases. If e.g. Euros 5,000 are needed, one can transfer Euros 3,000, as one does already have a credit line of Euros 2,000.

Creditworthiness check

Since it is a true credit card with credit line, the bank makes a creditworthiness check, in which, among others, the income and Schufa-ranking is decisively.

Refund of foreign fees

One can apply for the refund of the withdrawal fees by phone, calling 02161.90 60120. The service hours are Monday to Friday from 8 am to 7 pm.

Previous current account can be maintained

Although the Santander Consumer Bank also offers its own current accounts, you can keep all your existing accounts and only add the 1Plus Card as a single credit card.

Tip: Arrange with the bank that the entire loan balance should be paid by direct debit from your current account (reference account) at the due date. Therefore, you will not be charged expensive loan interest, if you do not settle the amount via bank transfer on time.

[/hide]
Will you get this additional card?
I am pleased, if you could support this special portal being a smart bank customer, e.g. by posting your experience with the Santander 1Plus Card via the comments feature of this page.
Especially helpful are, of course, experiences and tips on a successful application and use of the card. Thank you very much!

Further pages about credit cards for journeys
51 Responses to "Santander 1Plus Credit Card"