Change of name
From "TransferWise" to only "Wise" – but the services grow!
Whether the name shortening really has been chosen "wisely", I do not want to assess. I liked the catchy name TransferWise (TW) very much. The second half of the word has often been written wrongly. How this will develop in the future, given the missing of the prominent "Transfer", remains uncertain.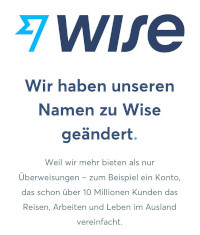 It actually is a pity, because the main business of the provider without deposits and loans are indeed transfers!
Well, being smart bank customers, we prefer to focus – according to our flag theory – on the interesting points of the usage.
1. Cost-free current account without Schufa
This is an important point for our community, because there is the growing concern that if you have too many current accounts or credit cards, then the creditworthiness score at the Schufa could suffer. I think that it is rather unfavourable, if you get the "wrong" providers too fast into the Schufa.
At the Wise-account opening, you do not have to worry about the Schufa, as it is not queried, neither is the account entered into it.
Everyone can open a Wise-account without creditworthiness check!
2. Multi-currency account
As soon as you have opened a user account (see yellow button, done within a few minutes), you can create further currency accounts with just two mouse clicks:
3. Cheap international transfers
For example, I was able to attend a transfer to a US bank account a short time ago, wherein the transfer only cost a fee of USD 1.05. This is in comparison extremely cheap.
Of course, you can receive international payments just as favourable. Here you can see an example of someone, who sold a property in Florida.
4. Mastercard (physical) with connection to the currency accounts
For a fee of currently Euros 6, you can order a physical Mastercard. It is interesting that the according foreign currency account is debited with the currency of the purchase.
If a currency account has not enough funds, the next currency account with the lowest exchange fee is automatically chosen for the debit.
On the screenshot, you can already see the relatively new feature of the additional …
5. Visa Card (virtual)
With only a single mouse click, you can order a virtual Visa Card (free of charge):
Whoever needs more than one virtual Visa Card can order another one with the next mouse click:
6. Business account
Wise can be used privately as well as for business. The account opening is possible in the name of companies, such as UG, GmbH or AG (entrepreneurial company, limited, public limited company) – however also associations and charities. Likewise, the account can be opened in a number of foreign legal forms, including the common US-American LLC or Corporation.
Someone of our community has opened a Wise-account in the name of a US-Corporation and had to pay an account opening fee of USD 31. Fair, isn't it?
For what do you use or for what would you use Wise?
We report about TransferWise (today's Wise) since 7 years. It has been well received in our community. This is why I am very thrilled to find out which features of Wise you like most to use. This can be one that I have not yet mentioned in this article, for example immediate transfers or date transfers.
Please write about it in the comments feature. You can also use it for your questions on the use of Wise and/or account opening, as well as for reporting of your experiences and tips for future readers.
A hearty thanks for your commitment!
Do you also know these articles on our special portal?