Caribbean Island – now belonging to Honduras
Withdraw money on Roatán
⇒ Best Practice

✅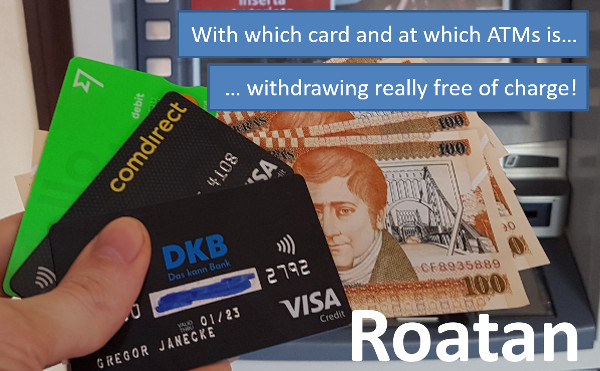 Do you even have to withdraw cash when you visit Roatán?
If you only have a few hours of shore leave from a cruise liner, then you can save yourself from that in most cases. You can pay with US-Dollars in many places.
However, the change is given in the local currecy Lempira (HNL) (Exception: within the US-American communities, you also get the change in USD).
Almost everyone on the island knows the current exchange rate to the US-Dollar and this is why the change is really fair. In restaurants or at the supermarket, you virtually receive a transparent currency exchange calculation on the bill.
If you arrive with the plane with a stop in the USA, please read this article (activation on the 1st of May 2019)on how to supply yourself cheaply with US-Dollars.
On Roatán, you do not get US-Dollars at the ATM, but only Lempira. You can pay everywhere with Lempira, even if the more exclusive restaurants and resorts keep their price listings in US-Dollars.
In the meanwhile, there are enough ATMs on the island. They are easy to find at modern gas stations and modern supermarkets, as well as in the bank branch offices.
The money supply from the ATM is also popular among the locals and sometimes you have to wait in line in order to withdraw money during the afternoon rush hour. However, this is always considerably faster than withdrawing or exchanging money at a bank counter.
When you enter a bank, you pull a number and can sit down in the waiting area until your number is called.
You can leave your Euro-cash at home
Important is that you have an internationally common credit card with you, preferably Visa or Mastercard. You can leave the formerly-known German "EC-Karte" at home, as well as the expensive American Express. One is not working here and the other only at really exclusive (expensive) acceptance points.
At best you also take a high-embossed credit card with you. Even if almost all card payment devices are digital, I was really surprised to see the good old "rip-rip-device" in use when picking up my rental car.
USD 1,000 were reserved as a deposit for the car. Plan your overdraft facility according to this amount. You can read about how to train the credit line of the most popular free single credit cards here: Training instructions.
Are all ATMs the same?
You could also ask: Is there a recommendation of which ATM you should use?
Today's article represents the current state and I would be glad, if future Roatán visitors would update it with their experiences through the comments feature … many thanks!
With and without withdrawal fee
At the Petrosun gas station in Monte Placentero, the ATM wanted to charge a direct customer fee (withdrawal fee) of HNL 120 (which were hefty EUR 4.36 on this day). Of course, I cancelled the withdrawal procedure, because I had already withdrawn cash absolutely free of charge in the supermarket "Eldon's" in Coxen Hole some days before.
However, I was not able to withdraw the displayed maximum amount of HNL 4,000. When choosing HNL 1,000, the ATM finally paid the desired amount.
You currently do not have to fear hidden additional fees in the exchange rate – shortened by the financial industry with DCC . All transaction were entered in USD or HNL and the exchange was entrusted to the home bank, which provided me in my cases with really good rates.
Overview of my withdrawals for this article:
On the journey to Roatán, I took the Visa Cards of my first and secondary account, as well as the Mastercard of TransferWise as a supplement.
Which provider charged the better rate?
Provider
Compounds of a cash withdrawal at the ATM
Link to the provider
Withdrawal amount
Exchange rate
Amount in home currency
+ foreign transaction fee
= Debit from the account at HNL 4,000


Difference to the best provider

Best providers

of this special portal


DKB
HNL 4,000
27.31622
146.43 €
0 € (0 %)
146.43 €


+/-0,00 €


TransferWise
HNL 400
27.21088
14.70 €
0 € (0 %)
147.00 €


+0.57 €


Comdirect
HNL 400
26.9360
14.85 €
0 € (0 %)
148.50 €


+2.07 €
Did you notice something?
None of my cards charged me a foreign transaction fee when withdrawing cash at the ATM. Great, isn't it?
Many customers of the Volksbank and Sparkasse have to lose out! Especially because they are additionally charged a withdrawal fee of Euros 5 on average. This does not apply to me with my cards either.
The DKB Visa Card has a daily limit of Euros 1,000 and the Comdirect of Euros 600. At TransferWise it is only about Euros 225 per month. So it is only a nice supplement for cash withdrawals …
… and the DKB credit card is all the rage!
Conclusion: Withdrawing money on Roatán
Perhaps you have noticed it in the last paragraphs: It depends on whether you take the "right" cards with you. If there is still 2-3 weeks time before starting the journey, my recommendation is as follows: Get yourself the best travel credit cards!
You can pay a lot with them on Roatán and this is why you need little cash.
Cash is meaningful especially for small expenditures, e.g. for buying a cold bottle of water or fresh fruit on the road. Also the carrier of your supermarket groceries will be happy, if you give him/her US-Dollar 1 or Lempira 25 as a "thanks".
You can get the Lempira currency on site using the many ATMs. If one of them wants to charge you with a withdrawal fee, then you can still consider whether you want to cancel the procedure and find another ATM.
It is recommended to take some "earnest money" in US-Dollars with you, which you can comfortably get during a stop at a US airport. The USD-ATM in Frankfurt only offers quite expensive exchange rates!
You can leave your Euro-cash at home.
300 meters further, there are another two banks. So much about the diversity. You might know: many providers assure quality and prices. I have opened an account at one bank. Are you interested in that? More about that in the overview within the internal area.
Want to get to know Roatán?
As the author supports a project with German participation, we now dispose of different ressources, contacts and tips. More about that in one of our future Sunday Mails.
Motorized spirit of adventure
Accomodation for our Achiever-Workshop
Coconut harvest
Questions? Supplements?
Please feel invited to ask your questions and post your experiences using the comments feature. Especially on such a thriving island much is developing and it can very well be that withdrawing cash will become even more diverse in the coming months or conditions and limits may change.
The comments boxes have been created especially for these supplements of the theme article. Many thanks for your smart participation!
Frequently read special articles:
PS: There is another possibility to get cash free of charge on Roatán, as I have experienced at the supermarket. Requirement for this is a US-bank account with checkbook and it works as follows: You simply visit a supermarket and fill the check in a much higher amount than the receipt at the checkout. You get paid the difference in cash!