Schufa-free!
Secret loan from a bank abroad – discrete option for smart bank customers?
Even if the here presented option is nothing for you today, please do not discard it immediately. Keep this page in the back of your head or save it. You can also recommend it to others. Many thanks!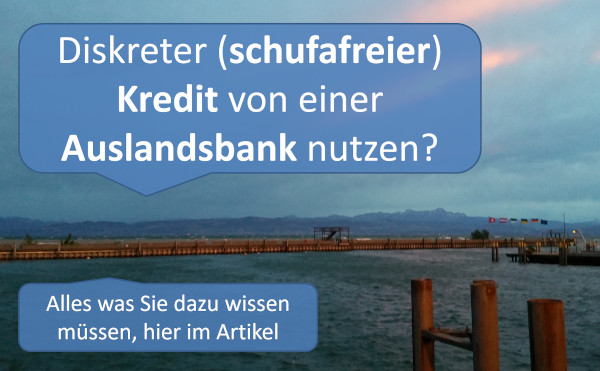 A. Few known backgrounds are coming to the light
A.1 People with a "negative Schufa"
Yes, there are people even in our community that have a "negative" score at the Schufa. If the basic score at the self query is below 80 per cent, then you will have a hard time when applying for a loan, even at your main bank.
Building a good score often takes years; we train to do this e.g. in chapter 3 after the set up of the account system.
In order to ruin the Schufa score, it is enough to not pay a mail-order business bill, ignore the reminders and wait for them to enter the sale of the receivable to a collection agency.
One would then be at about 35 per cent and can almost forget about being able to get a loan anywhere. Except for our solution at Point B.
A.2 Schufa-free means dicrete or secret!
Many people think that the Schufa is not queried when applying for a "Schufa-free" loan.
This is a mistake!
Of course, the data of creditworthiness agencies is queried. In the end, every loan granting bank wants to know about the type of client they are dealing with. If the query results in finding that the person is searched for by an arrest warrant, has recently submitted an affidavit or is connected somehow to an insolvency, then no loan can be granted.
However, if there is an unfavourable creditworthiness evaluation due to other circumstances, such as an unpaid mail-order business bill, divorce or change of address, this would not stand in the way of getting a loan approval!
What does Schufa-free really mean?
Schufa-free means:
That the granted loan will not be entered into the Schufa!
Think about that for a moment, what this could mean in your case:
You get money from a bank and nobody (with the exception of the loan-granting bank) knows about it!
This can be the solution for some people.
For example:
To increase the equity at real estate financing in order to get a more favourable interest rate for the high amount or to even get the approval of the financing at all.
To take an installment loan without risking the planned real estate financing (more expensive or completely impossible).
To finance something that nobody should know about. For example, you sometimes have to present the Schufa self-query when applying for a rental appartment and if the partner then discovers unexpectedly that there is a previously unknown loan, that could turn out quite bad.
Of course, the desire of getting a discrete Schufa-free financing is not what the masses want. But our special portal is famous for editing special solutions from time to time, so that you only have to follow the instruction for implementation.
B. This is the Schufa-free
(secret)

loan

The financing bank abroad is known to us since years and has been an option in our Aufsteiger-Training (achiever training).

The best probability for success (loan approval) is submitting the application through the special service provider Maxda, as all loan applications are manually processed there in order to submit them optimally to the loan bank. We have already reported about Maxda in connection with the solution for a "loan at short-time work/partial unemployment" .
Before you start with the loan application: Basic Information
You will soon discover that this Schufa-free loan at the bank abroad is no all-in-one solution, however, if you fit exactly into the pre-established corridor of the bank, it is an outstanding solution.
Requirements for the loan application:
Income from an employment, which is no self-employment/autonomy (salary, pay or pension) of at least Euros 850.

This is interesting, because many German banks do not grant loans below the seizure exemption limit!

You have a true chance, even if you are employed within the low-wage sector!

Nevertheless, it is about the professional status: trainees and students cannot get financing, short-time workers can.

Place of residence and income in Germany

Although it is a bank abroad, the loan department has focused on ideas that would otherwise have a hard time in Germany. In order to still be efficient and low in costs, there are fixed criteria and these are the place of residence and income – in any case, the income you state in the loan application has to be generated in Germany.
What can you finance?
The use is free for you to choose being the potential borrower; there is no obligation of proof, as known from car loans or real estate financiers. Given the fixed framework, however, it is clear that the use is limited:
| | |
| --- | --- |
| Loan amount | Euros 3,500, 5,000 or 7,500 |
| Term | 48 months |
| Interest rate | 11.11 per cent |
| Schufa-query? | Yes, but no entry (discrete). When queried through Maxda, the neutral characteristic "conditions" is set. |
| Special repayments? | Yes, at any point of time in any amount possible. |
If this condition corridor is to tight for you, you can make a loan application through this link ► https://www.maxda.de/anfrage/. The desired loan is also processed manually and an according bank is searched for.
Here you have the additional advantage that you can submit a guarantor and increase your creditworthiness doing so. This has an interest rate lowering effect. Maxda is not known for being the provider with the lowest interest rate – currently, the best offer is at 3.9 per cent –, but people were able to find financing at special banks that they would not have considered being a loan searcher.
Note: If discrete or problematic, let the Maxda-team do the work for you:
Questions and success reports?
As usual: Exchange with each other through the comments feature. This possibility is lived with a huge commitment in our community since years and has already contributed a lot to optimize solutions. A hearty thanks for your great commitment!
Please also post, if you were able to finance your idea because of being inspired by this article and what experiences you gathered doing so. Thank you so much!
C. Do you already know about …?