Account + Card
Comparison: DKB ⇌ TransferWise
Requested by our community: Comparison of the DKB current account with Visa Card and the Borderless-Account of TransferWise with Mastercard. Both are free and in German language.
Beforehand: For me, it is not an either/or question, but an interesting combination within Germany and on journeys. However, please take a look yourself:
DKB account
with Visa Card
TransferWise account
with Mastercard
Account type
Current account including credit card
Multi-currency account including debit card
Fees for account management
free of charge including all cards
Account opening
► online
► online
Current account use
Account number
DE-IBAN
DE-IBAN
additionally, also account numbers from the USA, England, Australia and New Zealand are connectible
Incoming transfers in EUR
free of charge
Outgoing transfers in EUR
free of charge
€ 0.63
Incoming transfers in foreign currency
0.1 % of the amount, at least € 12.50
USD, GBP, AUD, NZD free of charge, others: 0.35 % – 2.85 % without minimum amount!
Outgoing transfers in foreign currency
0.1 % of the amount, at least € 12.50
0.35 – 2.85 % of the amount, at least € 0.84
Holding balance in foreign currency
not possible
possible free of charge in 40 currencies
Standing orders
free of charge
not possible
Direct debits
free of charge
not possible
Card use
Payments in EUR
free of charge
free of charge,
if EUR-balance in the account, otherwise 0.35 % – 2.85 % foreign currency fee
Payments in foreign currency
free of charge
(no foreign transaction fee)
free of charge,
if foreign currency balance is in the account, otherwise 0.35 % – 2.85 % foreign currency fee
Overdraft facility
Credit line + possibly card balance
Total balance of the account (all currency accounts together)
Cash
Withdrawals
free of charge
between € 50 and 1,000 per day
free of charge up to £ 200
(about € 225) within a time frame of 30 days; then 2 % fees
Foreign currency fee?
free of charge
(no foreign transaction fee)
free of charge,
if foreign currency balance is in the account, otherwise 0.35 % – 2.85 % foreign currency fee
Deposits
only possible at the few own DKB-ATMs
not possible
Regulatory things
Seat of the provider, account management in …
Germany
England
Monitoring of the provider through …
Bundesanstalt für Finanz­dienst­leistungs­aufsicht (BaFin, Federal Financial Supervisory Authority), European Central Bank (ECB)
Financial Conduct Authority (England)
Account reports
BaFin, annual report to the tax authority at a German residency or bank customer information exchange with the tax authority of the country of residence
is not subject yet to the information exchange with the country of residence
Deposit guarantee
statutory € 100,000; beyond that the deposit guarantee fund of the federal association of public banks of Germany (Bundes­verband Öffentlicher Banken Deutschlands e. V.) + comfort letter of the Bayerische Landesbank
none, but natural separation of institution's money and customer's money, this is why the refund of money is very probable
Note of the editorial:
suitable for parking bigger assets in EUR
suitable for emergency money in different currencies of moderate amount, international payments; alternative to the bank account in Germany
Recommendation for the account opening
I generally recommend the opening of both accounts, first of all in order to have an absolute top account in Germany and second, to have an emergency option ready in the abroad. I have both accounts and use them actively.
Who can open an account?
• natural persons
• from 18 years
• at a place of residence in Germany, Austria, Switzerland (having a German passport also around the globe)
• natural or legal entity (company)
• from 18 years
• at a place of residence in Germany, Austria, Switzerland or in very many other countries
Online account opening:
Questions?
I am glad to answer your questions posted through the comments feature at the end of this page. Moreover, I am looking forward to the exchange of experiences, ideas and tips with you!
TransferWise: Some chosen details for you
1) Using EUR-to-EUR transfers
Being smart bank customers, we are used to transfer free of charge within Germany or to other Euro-countries from our accounts at the DKB, ING or Comdirect. TransferWise can also transfer, but there are costs, as you can see here: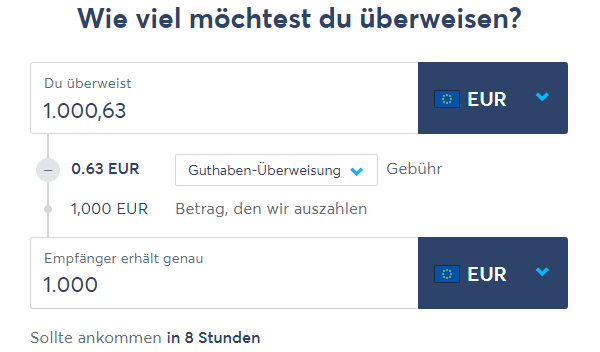 Who owns a free current account in Germany probably won't use this feature paying Euros 0.63 per transfer.
TransferWise: Alternative for people without a German current account!
For people, who do not get a (free) account, the transfer solution within Germany through TransferWise could really be interesting.
If you have an average of 6 transfers per month, then the fees would be Euros 3.78. In this point, it beats all unsubsidized (students, apprentices) accounts of the Sparkasse!
However, one has to add that TransferWise makes a German IBAN available to its customers, but it does not work for direct debits or standing orders.
On the other side, this can also be regarded as practical:
There are no illegal direct debits and neither can there be a account seizure. At least not through the conventional way that takes place thousands of times daily in Germany with an increasing tendency.
2) Cheap for international transfers
Originally, TransferWise is a transfer service provider for international payments and with the Borderless-Account you already have the full transfer functions activated. You can e.g. transfer to the USA very cheaply and exactly to the cent.
However, you can also transfer super-cheap within the USA. I recently transferred US-Dollars 5,000 to a US bank account and this has only cost me USD 1: absolutely not comparable with the usual wire-fees of about USD 25 or the shipping of checks!
3) No Schufa-query
When opening the TransferWise-account, there is an interesting fact that neither the Schufa is queried before account opening, nor is the account entered afterwards.
TransferWise is Schufa-neutral
This makes the account opening additionall easy for many smart bank customers, as it does absolutely not have any effects on the Schufa.
Others, who do not have a good Schufa-score and are therefore rejected from getting the best free current accounts, can get a highly interesting account with TransferWise free of charge – depending on the individual purpose of use!

Free Mastercard
Especially because you get an attractively designed Mastercard with NFC-chip for free. Sparkasse, Volksbank and a growing number of other banks charge an annual fee for the card additionally to the account management fee. TransferWise does not know such thing.
TransferWise earns – just like every other bank – when you use the card for cashless payments. The fee for the card use is paid by the payment receiver. If you consign the card e.g. at Amazon, then Amazon is paying a mini-amount for the payment for you. But you don't pay anything!
4) Foreign currency account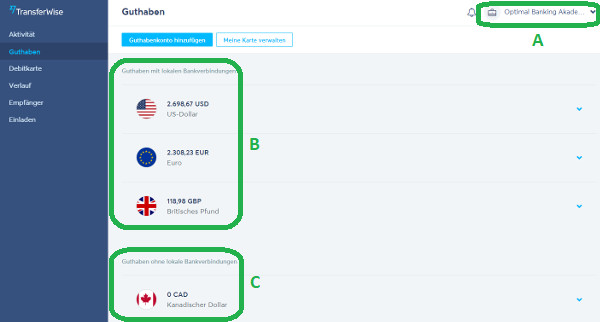 A) As you know from the comparison above, you can open TransferWise privately or for business. Depending on whether you want to make a private or a commercial payment, you switch to your according profile in the tab on the top.

B) Amounts and account balances with a local account number: If you want to receive payments in US-Dollars, then you simply state your personal US-account number as well as the routing number of TransferWise in New York and the US-Dollars are credited free of charge!

C) You can also exchange and hold money in about 40 currencies. If you do that e.g. before a journey, then you do not pay the foreign transaction fee at the card use in this foreign curreny.

Example: You plan a journey to Canada. Beforehand, you transfer Euros to your CAD-account at TransferWise, which you set up with just a few mouse clicks. When you use the Mastercard in Canada, the currency is automatically recognized and debited from your CAD-account. Then, the payments are free of charge for you. Moreover, you save youself from the cumbersome money exchange in banks or exchange offices, what a strikingly huge number of people still does!
What further information do you need to open an account?
Please write me through the comments feature. That supplements this article and at the same time enhances the production of future articles. Agreed?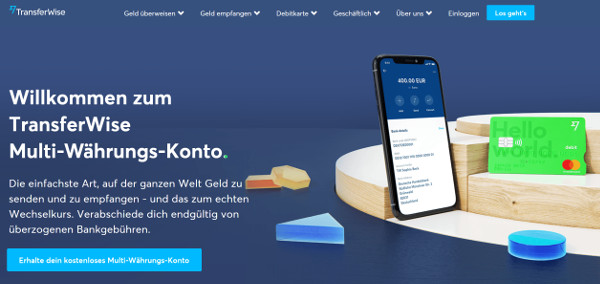 DKB: Potentially as your main bank account
In the past 15 years, I have written so much about the DKB that some people thought that I was a DKB employee.
In this article, I want to indicate an innovation at the DKB and give you three useful links to related and detailled articles.
Google Pay integrated
The 3 useful DKB-links
Questions? Ideas? Experiences?
You already know … comments feature!
Heartly thanks that you have watched or read this article to the end.
More is up with pleasure!
One Response to "Comparison: DKB ⇌ TransferWise"