Practical help
Get the money back from Canada
There are people, who have bought a property in Canada years ago and have resold it in the meantime. Now, the money is in a Canadian bank. How can you get it back?
This article presents a solution that I use myself. Of course, it is also valid for other money transfers.
TransferWise, my best service provider for transfers!
1. You need a free TransferWise-account
If you have not heard of TransferWise before … this is our basics-article and here you can find the instruction for account opening.
An account can most often be opened within a few minutes online and can be used immediately!
2. You add a currency account in "CAD"
(free of charge)
You click in the main navigation menu on balance and if you do not have a CAD-account, then you can add one free of charge:
3. Create deposit
If you have created your new CAD-account, the account balance is "0". My account is already in use, this is why there is some balance in the following graph. Click on "Add CAD" to announce a deposit:
Fix the amount
Ways to deposit and limits
| | |
| --- | --- |
| Card payment | CAD 3,000 per payment (higher fees) |
| Bill-Pay | CAD 9,500 per 24 hours (often the cheapest variant) |
| Direct debit | CAD 9,500 per 24 hours, maximum of CAD 30,000 within 2 weeks (not all banks offer direct debits) |
| Domestic Wire-transfer | CAD 1,500,000 per transfer (often a manual work of a bank employee is necessary) |
In our example, it looks like this: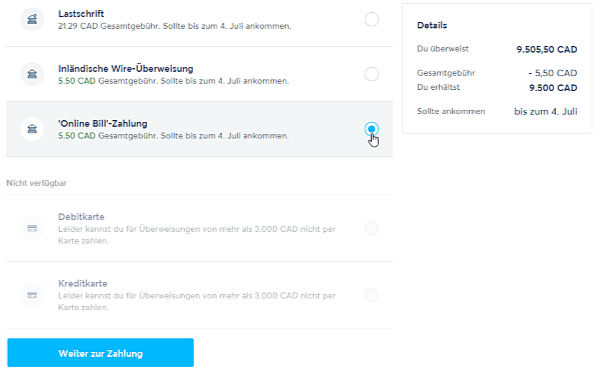 At the amount of CAD 9,500 I have opted for the "Bill-Pay" feature. This is actually a system for paying bills within Canada free of charge, e.g. the electricity provider.
TransferWise is also mentioned within the Bill-Pay system as a payment receiver and the lump sum of CAD 5.5 is from TransferWise, although one can assume that the fees for the Bill-Pay system are paid with it.
Your account holding bank won't charge you fees for Bill-Pay payments. Therefore, Bill-Pay is the cheapest variant for deposits in most cases.
Direct debit is expensive and normally additional fees for Wire-transfers apply on the part of your Canadian bank. You often cannot do them by yourself online, but you have to order them directly in the bank branch office or through telephone/mail.
The payment by credit card is only worth it for low amounts, as the costs rise fast on a percentage basis. If you do not have access anymore to the online banking of your bank, the credit card would at least be an alternative!
4. Bill-Pay payment
(recommendation in our example)
You log into the online banking system of your bank and choose the Bill-Pay feature. This could look like that:
The credit note at the TransferWise-account will most often appear on the next banking day.
5. Exchange into Euros and payment to a German bank account?
Super easy: You simply click – as shown at Point 3 – on "Exchange CAD", choose EUR. If you already have a Borderless-account (my recommendation), then the money is now there and is available for future transfers in EUR. For example, you can let it get transferred then to your German current account.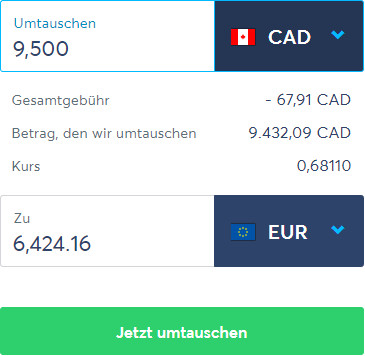 The exchange from CAD to EUR is actually the "expensive" part of it all.
Done!
However, in comparison to the sole bank system, TransferWise is still cheaper and in the further course, TransferWise again has its strong points, because  …
… I have a connecting use for the money
My personal plan is to exchange the money that I got back from Canada into USD, because I have just purchased a very cheap city property in Cape Coral (Florida) and the transfer to the Title Company is on.
Are you interested in buying or selling cheap properties in America and other types of transfers? Then I hope that you are already subscribed to our newsletter, because I reveal some of my activities in America from time to time.
CAD is exchanged into USD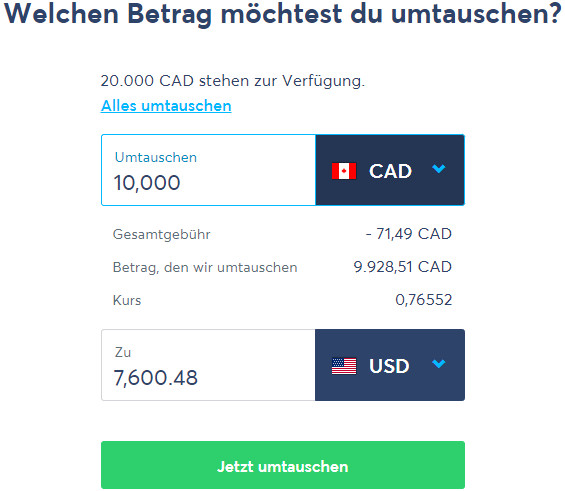 The exchange from CAD to USD is almost as "expensive" as to EUR.
On the screenshot, you see other numbers, because I exchange CAD 10,000. In the meantime, my second payment from Canada has arrived. I have repeated the procedure as described above and this is why CAD 20,000 are in my account.
The exchange is done within one second!
Now TransferWise shows its strong points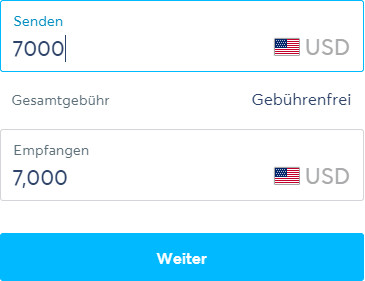 Yes, you see correctly: I send money from one TransferWise-account to another TransferWise-account in US-Dollar and all that does not cost me anything!
Send money free of charge within the TransferWise-system with the same currency
Transfer to the bank account of the Title-Company
Another strong point of TransferWise: The payment of the purchase price for the property did only cost EUR 1 (USD 1.13). It was a payment to a USD-account at a local bank in Florida.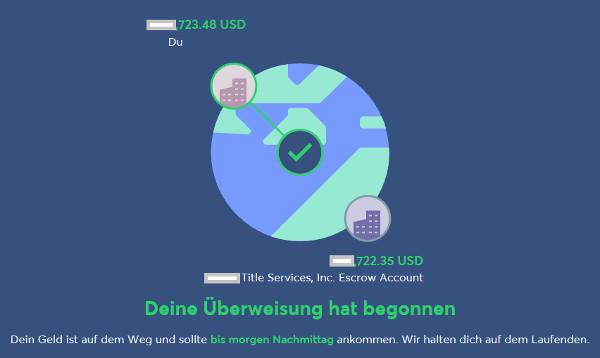 The money arrived exactly to the cent on the next day.
Payment to the US-account for only Euro 1!
Question that could arise!?
Is this process subject to registration at the federal bank?
Answers to different sceneries:
… I wanted to give you some in this article. I tried eight times this week to get current information about that at the federal bank. The result is that it seems that there is only one person in the organization that knows about it or is allowed to provide information, and this person was never available. This is why I put a link to our older basics article.

Further questions?
Being a part of our community, you know the answer: they are welcome through the comments feature. A heartly thanks for the great commitment and diligent sharing and recommending.
My recommendation, if you are on the road internationally:
Open a Borderless-account at TransferWise. The opening, the account opening and the Mastercard are free of charge in every case.
There are small fees for payment transactions. I have used this account quite often and have saved a lot of money and time, especially at my international transfers (not only for real estate transactions).


Very practical: Modern account with card and app without monthly fees.
Easy account opening ► https://transferwise.com/de/borderless/ ✅
Articles that could help you: