Regarded as such for the first time:
ING-DiBa current account as a completely underestimated option for guests in Germany!
People, who have lived for some time in Germany, have made the mistake quite often that they cancelled their bank account … What else can you do, if the German bank says, "no place of residence in Germany = no account"?
Our advice always was to open an appropriate and free current account with credit card and extended service hours on time before moving from Germany. Our previous recommendation: Comdirect or DKB.
Today, we are presenting you the ING-DiBa as an option for the first time, as it offers a few but hardly known possibilities, which are highly interesting for German expatriates (and other people)!
1. The basics
free

current account without preliminary conditions

fee-free

withdrawing of cash at 90 per cent of all ATMs around the globe

free

Girocard (debit card)

free

Visa card

telephone

availability around the clock, 365 days a year
possible account supplements: call money, depot, overdraft facility and further types of credit cards
account opening online, legitimating through video chat or PostIdent-procedure
Through the following link, you can go directly to the current account page of the ING-DiBa ► www.ing-diba.de/girokonto … however, would you like to continue reading the article first?
2. The overdraft facility that remains, when moving abroad!
If you open your new current account at the ING-DiBa, it is automatically held as a credit account.
That means: You can do anything with the account and the cards as long as there is enough money on the account.
However, especially those who plan moving abroad may do not want to keep unnecessary money reserves in Germany (okay, there are also people, who have exactly this in mind).
2.1 Simple solution: more financial scope thanks to the overdraft facility
Use the time in which you are still in Germany in order to prepare your bank account for the emigration cleverly. That includes arranging the highest possible credit line with the bank, which will remain after the emigration!
If an overdraft facility – which is also called "Dispo" in German – is granted and registered with ING-DiBa, it will not be checked again.
Agreed overdraft facility will remain, even when moving abroad!
Advantage: You can immediately apply for the overdraft facility during the account opening. It is granted – given a corresponding creditworthiness – up to triple the amount of the monthly net income, up to a maximum of Euros 10,000.
If you are already a customer of the ING-DiBa with a current account, you can apply for the setup or change (increase) of the overdraft facility in the Menü (menu) Konten und Depots (Accounts and depots) ➜ Girokonto (current account) ➜ Mehr Funktionen (more features) ➜ Dispokredit ändern (change the overdraft facility).
In order to be granted an overdraft facility, no incoming salary or pension transfer is necessary. However, the income must be proven in an appropriate manner. This usually can be done through the last payslips.
Recommendation: Before emigration, use the ING-DiBa as your main current account. Arrange that all payments that possibly apply even after your move, will be made through the DiBa. This way, you will gain important experience with your new bank too!
My own experiences with the overdraft facility
I have opened my own current account in 2008 and immediately got an overdraft facility in the amount of Euro 4.700. I have never transferred any salary payment to the account and I have left it untouched for years. Nevertheless: the overdraft facility remained all the time.
Just by setting up this account, I have virtually created a "silent" reserve. If one urgently needs money, one could claim the overdraft facility at any time … and I actually did so in 2009 for some weeks.
2.2 Extra-Tip: Setup of an additional overdraft facility possible!
Besides the regular overdraft facility to the current account, there is also the possibility to set up a second overdraft facility at the ING-DiBa – called framework loan. Creditworthiness is required!
A framework loan is a credit line fixed by the bank that you can always use if you want.
2.2.1 Advantages of a framework loan
free setup
credit line depending on the creditworthiness between Euros 2,500 to 25,000
as with the overdraft facility, one only pays interest, if one is in the "red"
(balance 0 = no interest)
one can use the loan anytime and pay it back anytime
(by transfer to the loan account)
credit line is set up permanently (unlimited term)
credit line remains when moving abroad!
credit line can also be applied for without having a current account at the ING-DiBa!
(There are people, who want to keep their current account at another bank, out of different reasons.)
The framework loan is applied for online ► www.ing-diba.de/rahmenkredit
(proof of income necessary, but can be submitted later).
"Unique + clever possibility"
… enhance my financial framework now!
3. Cash deposit free of charge from Euros 1,000!
The occasional depositing of cash at a direct bank is rather related to people living permanently in Germany … However, you should read the story of Marie and Lukas, who have opened the ING-DiBa account before moving to Canada:
We have sold lots of small items on eBay before our departure and the payments were made directly to our account at the DiBa.

A nervous, time and financial challenge was the sale of the larger pieces on eBay Classifieds with self-pickup and especially our distress sales, when the overseas container came and it became obvious that not everything would fit in there.

Finally, we held Euros 12,870 cash in hand on the last night before departure. In Canada, we would not be able do much with the Euro notes and a currency exchange there would be associated with considerable costs.

A cash deposit at our local bank with a subsequent transfer to the DiBa-account (subject to charge by the local bank) was not possible either, because it was closed at that nightly hour and would have opened on Monday again. Our flight was booked for Sunday afternoon.

The fact that the ING-DiBa has established an excellent cooperation with the Reisebank (travel bank) "saved" us and our money from overpriced fees and, possibly due to this huge amount, tough questions by the entry officials in America (reporting threshold CAD 10,000)!

We have taken all the money to the airport and deposited it there free of charge at the Reisebank.

Thank you, dear ING-DiBa, that this is possible with you and in such a great manner!
3.1 How the cash deposit at the ING-DiBa works
3.1.1 Requirements
Cash between Euros 1,000 to 25,000
not more than 50 single coins per operation
Branch office of the Reisebank nearby
can be found at most mayor train stations and airports
Valid ID-card or passport
… and, of course, your ING-DiBa Girocard
3.1.2 Procedure
You visit one of the 100 branch offices of the Reisebank during the opening hours. The branch offices can easily be found through the Google search. They are usually located in or near the major German train stations and at major airports.
The opening hours are considerably longer than for normal banks. Of course, adapted to the tourist traffic. Often from 6 am to 10 pm – even on weekends (not all sites!).
You have to show your ID-card or passport for the legitimating and your Girocard that identifies you as a customer of the ING-DiBa. Additionally, there is the IBAN of your current account on it. In the end, the Reisebank needs to know to which account the payment should be transferred.
The fees of the deposit are borne by the ING-DiBa for you!
In the same manner, you can deposit amounts below Euros 1,000, but then you would have to bear the fees.
4. Tax status and securities account
After emigration, the tax status changes regularly. One is no longer a German taxpayer, but a non-resident tax payer (Steuerausländer) – which is very convenient, because then all capital income is no subject to the settlement tax in Germany anymore.
Capital income – for example, interest – is then credited without deduction of tax. In order to update your tax status, please contact the customer service.
If you have a securities account at the ING-DiBa – which can be meaningful for many wealthy expatriates, e.g. keeping a part of the pension plan in Germany – you can continue with your depot as usual.
Also a depot-transfer to the ING-DiBa can be meaningful
Exception: One has become taxable in the USA (place of residence, Green Card, work place). There, the tax rules are so complex that the ING-DiBa, just like 99.9 % of all banks within the EU, decided to refrain from managing depots for US-tax payers. However, keeping a current account at a place of residence in the USA is not a problem.
Marie and Lukas, who immigrated to Canada, have kept their securities account and are pleased with the favourable conditions and possibilities of the ING-DiBa. They have not found anything comparable in Canada!
Also from this perspective, it is meaningful to keep a banking relationship with Germany!
A depot account can be opened at ING-DiBa also without a current account (separately). Here you can find the corresponding link ► www.ing-diba.de/direct-depot.
5. Receiving new cards abroad
Any bank, debit or credit card has an expiration date. This is the date from which the card will be automatically invalid. It must be replaced by the bank.
However, this is not a problem for customers of the ING-DiBa, who live abroad.
The bank sends the new cards for free abroad. The validity periods of the cards are currently 5 years (Visa Card) and 4 years (Girocard). Defective cards will also be exchanged for free.
6. Necessarily make the account opening now ✔
One should not wait any longer with the account opening and do it at best immediately, because one gets currently a bonus of Euros 75, if one arranges to transfer the salary to the ING-DiBa, and the account does not cost anything!
Euros 75 Start Credit
Please keep the following ready for the account opening:
Your personal information including net income
Possibly ID-card/passport, if you want to make the legitimating via video chat immediately afterwards.
Plan to have about 15 minutes of your time for the account opening.
6.1 Procedure
At best, go directly to this page: www.ing-diba.de/girokonto and click on the button "Jetzt kostenlos beantragen" (Apply now for free) in order to get to the online application.
Once all data has been entered and was verified by you again for its accuracy, the bank makes a fully automated pre-check. That means that it will ask electronically at the Schufa (credit investigation company), whether everything is ok.

If everything is good, one can immediately proceed with the account opening. You receive the account agreement for download and a coupon for legitimating.

If you like, you can immediately start the legitimating via video camera. The technical service provider for this is the company WebID Solutions. The legitimating service hours are daily (including weekends) from 7am to 10 pm.

Alternatively, you can print the coupon and make the legitimating (Postident) through a branch office of the Deutsche Post.

The account application must be printed and signed, and the original document must be sent by mail to the bank. If you have opted for the PostIdent-procedure, the delivery service with the Deutsche Post is free for you.

If you have also applied for an overdraft facility, then please attach a copy of the last proof of income.

A few days later, you will receive your access data for online banking as well as your GiroCard and Visa Card in separate mailings. You can then start to use your account!
Ask your questions or additions to the account opening or use through the comments feature at the end of this page
"Free current account with great features"
… get my new account now!
7. A downside!
The account opening is only possible with a place of residence in Germany! The ING-DiBa does not accept applicants residing in Austria or Switzerland (which is what some other banks of our special portal do).
If you have already emigrated and have unregistered yourself in Germany, then the current account opening is no longer possible.
Therefore the advice: Open your bank account at the ING-DiBa today (although your emigration plans are not yet established). It is an excellent bank with a great customer service (available around the clock, including Sundays and holidays) also in Germany for the everyday use.
… and in fact, most people become customers of the DiBa without emigration intentions, but it is also a bank that remains as a banking partner in Germany after the emigration and it lets the overdraft facility continue (and does not cut it like some other banks!).
Bonus
B.1 For closure, a tip regarding withdrawing money abroad:
Withdrawals in Euros (e.g. France):

Please use the Visa Card at an ATM. All incurring costs are automatically borne by the ING-DiBa for you.

Withdrawals in foreign currencies (e.g. US-Dollar):

for withdrawals up to converted Euros 286 use the Visa Card,
for higher withdrawal amounts use the Girocard, if possible.

Background: For card payments and cash withdrawals in foreign currency, there is an exchange fee of 1.75 per cent, also called foreign transaction fee Exception: This does not apply to the Girocard, however, there is a general withdrawal fee of Euros 5 at foreign ATMs.
Withdrawals in Euros are generally free with the Visa Card
B.2 … and something general about the ING-DiBa
The ING-DiBa to be the largest direct bank in Germany with more than 8.3 million customers. It carries "ING" in the name, because it is a 100% subsidiary of the Dutch ING Groep since 2003.
The ING Groep is one of the 30 world's largest banks and was classified during the financial crisis from 2008 as a "system-relevant bank".
It operates in currently 39 countries through bank branches or significant banking shares. Also in Canada. However, it changed its name from "ING Direct" to "Tangerine" in 2014.
Whether Marie and Lukas also became customers of the ING in Canada, is not known.
Despite the common Dutch parent company, there are no advantages for ING-customers, if they work with another ING-bank abroad. These are fairly autonomous and have no co-operation program (like the Deutsche Bank has for cash withdrawals abroad).
In Germany, the roots of the Bank started in 1965. It was established at that time as a Bank für Spareinlagen und Vermögensbildung (BSV) (bank for savings and investment). It was a bank for the "humble man", but already an exclusive direct bank.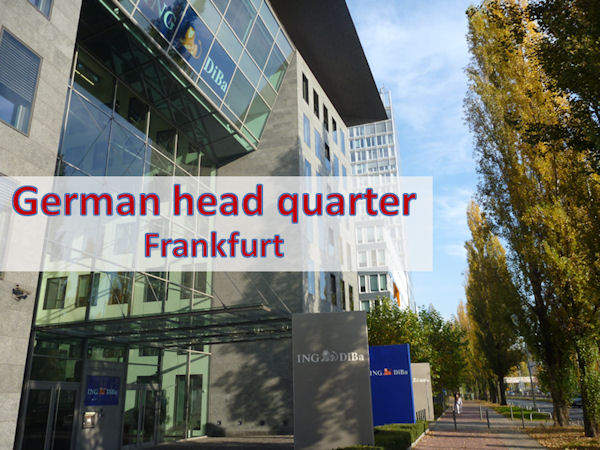 Today, it is a full-service bank for any type of need – for private customers with a comprehensive range of banking services from the free current account and savings account to securities accounts up to various forms of financing (loans).
9. Summary
ING-DiBa is a modern direct bank, which is used by more than 8 million people in Germany. One can get a free current account there. The requirement is a place of residence in Germany.
If one moves from Germany later on – temporarily or permanently – one can still keep the account. Even the agreed credit lines will remain in its full extent, even if no salary is transferred to the current account.
But let's go back to the account opening …
Please write me, if you have set up a free current account at the ING-DiBa because of this article.
I am very interested in what experiences you have made and how well it worked with the bank.
This information will then eventually be incorporated into an instruction-article. The link to this article can be shared freely. Many thanks for your support!
This is how your new online banking would look like … could you cope with it?
Further thrilling articles on this portal:
33 Responses to "ING-DiBa current account as a completely underestimated option for guests in Germany!"