Opening an account via the German PostIdent procedure
DKB: possible in Austria with a trick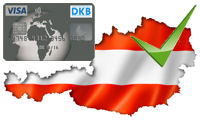 We've observed carefully how DKB handles applications for accounts from abroad since the bank has backed down from its foreign business on 30th of June 2014 (as I reported).
We've learned about a first positive experience from Austria. This encourages to continue to apply online for a DKB account. However, the customer needs to make a bigger effort, but this can be worth it in view of the fantastic DKB conditions.
This is how Austrians get a DKB account:
Visit the German DKB website: www.dkb.de
Click on "Jetzt DKB-Cash eröffnen"
Fill in the application for the account completely, including the address of your place of residence in Austria
A PDF file "PostIdent" will be created automatically (if it isn't created, you'll get one from DKB via e-mail in the coming days). Print it and take it together with your identity card / passport to a

Deutsche Post

office. The PostIdent identification procedure is not possible at an Austrian post office anymore.
This is how the PostIdent procedure works
An identification at a German post office probably won't bother you, if you live in Salzburg, Tyrol or Vorarlberg. The way to Germany is longer from other federal states of Austria. Maybe you can combine it with a vacation or business trip? Apply for the DKB account a few days before starting your journey.
necessary documents: PostIdent document, piece of identification
The identification process takes about three minutes at a Deutsche Post office. Give the printed PostIdent document and your piece of identification (identity card or passport) to the postal worker.
Make sure you also know your postal code. It's not included in your piece of identification and you'll be asked for it.
The postal worker will copy some of the data from your identity document and print them. You'll be asked to confirm that they are correct and to sign the paper afterwards.
The postal worker will send this document to the DKB. The procedure is completely free of charge for you. You'll only have to cover the costs for your trip to the post office. Every Deutsche Post office – even the small ones which are often combined with a bakery or a tobacco shop – can do this PostIdent procedure. There are also post offices at some airports.
This confirmation of the customer's identity is required by law in Germany. Just as in Austria!
A first application for a DKB account succeeded!
We know that DKB has accepted a first application for the DKB Cash account by someone living in Austria who did the PostIdent procedure in Germany.
We recommend to do it the same way, if you want to have a DKB account as well. We would also like to ask you to share your experience in the comment section below. This will help other Austrians with opening an account!
It would also be interesting to know whether DKB accepts someone with a foreign identity document (e.g. a Hungarian or Polish passport) who lives in Austria. But don't forget: You need to understand German well to be able to become DKB customer.
We're looking forward to further experiences!
Related topics
image: daboost and creativ, fotolia.com
2 Responses to "DKB: possible in Austria with a trick"