Ideal for a sideline self-employment?
Fyrst: Free Business Account in Germany
With great joy, I find out that there is currently an increasing number of sideline business creations.
This is a good sign for the future.
Even if business creations are implemented in front of the uncertainty of a crisis, they can develop a whole lot of positive energy that so far bystanders come to have better thoughts and actions.
We happily support this process – in this article with ideas, tips and experiences about a very good business account. Of course, without monthly fees in order to work in an ressource-friendly way from the beginning.
Solution idea upfront:

Fyrst by the Deutsche Bank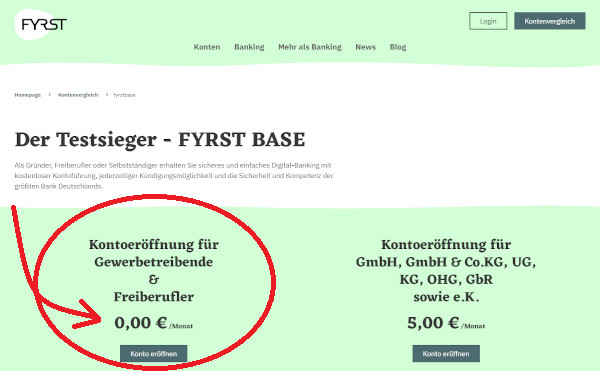 … explanations in the course of this article.
The main conditions:
Free account management including 50 account transactions per month
Free Girocard
Possibilities of depositing and withdrawing cash (subject to a fee)
Banking online and through app
Possibilities of an overdraft facility and financings
Interface to bookkeeping and tax consultant program
Easy and fast online account opening.
Example
Oliver establishes a sideline self-employment
Of course, you often have very individual requirements as a "company" towards a bank offering business accounts. You cannot process all of them in one article. Therefore, we made the approach of accompanying a frequent reader in his thoughts of choosing his business current account.
Simply take a look at the points that apply to you – which are a welcome inspiration and which are not.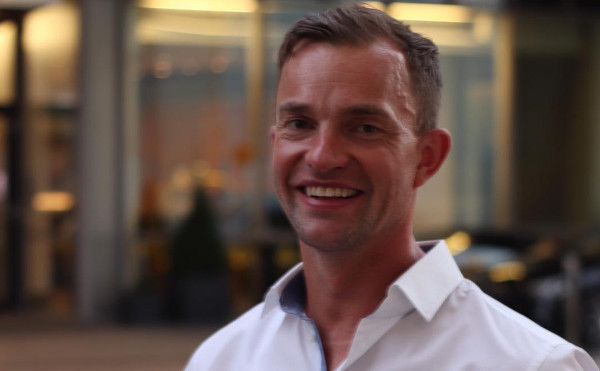 Oliver, his business, his account
Oliver is a development technician at a very good medium-sized company. He works there since long and has a permanent employment contract with a salary above average. Moreover, he enjoys his work.
Within the framework of the "Aufsteiger-Training" (achiever training), he realized that could never reach his financial goals despite his good job and payment. This is why he decided – just like Robert Kiyosaki recommends – to establish his own business.
To reach the financial and timely goals, it has to be in the "business owner sector" with system – see on the up-right in the following graph.
Cashflow-quadrants according to Robert Kiyosaki: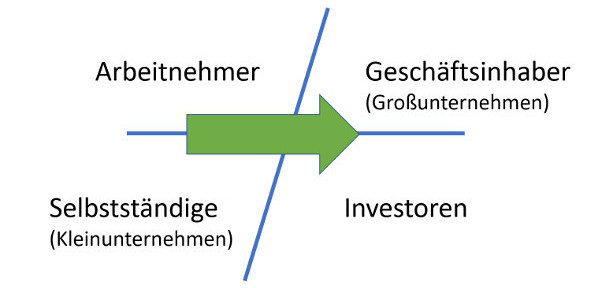 On the down-left, there are the individual self-employed. Among them are many specialists, such as doctors, lawyers, but also "trifles" like flea-market merchants. They are important for the functioning of a society – they often do not have the ambitious financial goal like Oliver with his business creation in the quadrant "business with system".
Such business ideas become more and more popular also in Germany and are even established on the highest level with a federal association with several thousand companies in Germany.
Best-seller by Robert Kiyosaki that fits very well in our time: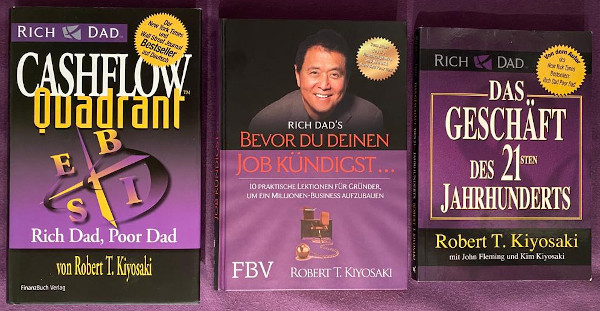 When did you invest your time and money into a helping book last time?
When should you open a business account for a sideline business?
Immediately after registering the commercial business.
Many tax consultants claim that this is not necessary. I know. Perhaps they want to protect their new clients from additional account management fees, because they are normal at most banks offering business accounts. However, you do not have these fees at Fyrst.
Moreover, you also save fees at the tax consultant, if you submit an efficient and neat bookkeeping with only commercial transactions.
Or do you want to pay the employee of the "tax consultant", who then decides from all your transactions of your private account, what a tax-reducing commercial expenditure was and what a private pleasure?
Moreover, the account contract of our favourite banks DKB and ING Deutschland includes that the account is only to be used privately.
You need a business account from the day of business registration
Additionally, Fyrst offers a FinTS-interface for bookkeeping software – you can link the DATEV, among others. This software is used by more than 90 per cent of tax consultants. Depending on the own bookkeeping style, this can save you further costs at the tax consultant.
Account with and without cash transactions?
Among the very many franchise and network companies, Oliver has chosen a company that produces food and care products. These are consumer products. A manageable investment. Fast cycle of re-ordering and therefore regular money income.
In the best case, an acquired customer re-orders the products he/she likes autonomously. The shipping and billing takes place directly through the producer. Oliver earns a little from every order. These earings are gathered and paid once a month. Oliver receives a document for the bookkeeping and an incoming payment to his Fyrst business account.
Customer payments do not run through his business account, but exclusively directly to the producer. Any possible complaints too. Therefore, the 50 free transactions on the business account are enough for him. One is used for the monthly payment and others, if he purchased commercial stuff with his Girocard.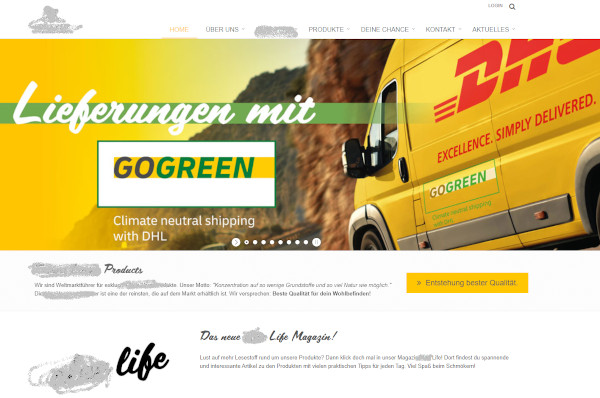 Oliver has decoupled his own working time from his business. At the same time, he uses the time and the skills of others for his business success, which simultaneously is also a success in the whole value chain!
As not every customer wants to initially register with a customer number at the producer, Oliver also has some cash sales of products. He can deposit cash through the counters of every Postbank or their partner shops into his Fyrst business account. Likewise, he can dispose of the deposit machines in the brach offices of the Deutsche Bank.
Cash: Postbank, Deutsche Bank, Cash Group
Unfortunately, there is a fee of 0.6 per cent, but at least Euros 5, for every cash deposit. This is why Oliver only uses this feature, when bigger amounts have been gathered, or he transfers them free of charge from a private account (cash-book money-exchange).
The withdrawal of cash is also possible at the counter, at the ATM (Cashgroup) or even cheaper in the supermarkets. Cash bears a higher effort and therefore, there are fees for that in the business account.
Fortunately, his business is aimed at helping interested parties and new customers to learn how to order and re-order autonomously, as well as acquiring new multiplications (recommenders, distribution partners). One cannot see the sucess in the number of account transactions, but in the amount of the monthly payment.
Financing of a business creation
This subject is very individual and comprehensive. If we focus on the sideline business of Oliver in thoughts, two things are possible:
Setup of an overdraft facility (called "Kontokorrentkredit" – current account credit – in the business account) and
Installment loan for example for the business equipment, goods and business coaching
After the account opening of the business account at Fyrst, you can apply through the contact form relatively easy for an initial overdraft facility of low amount, e.g. Euros 500. This is a good idea for avoiding chargebacks at payment overlaps and is no big risk for the bank.
A small overdraft facility can be made quickly.
At a later moment, you can increase it – depending on the usual revenue. The interest rate currently is at 13.08 per cent. So it is not recommendable to use it permanently. Consider it being your safety buffer!
When someone creates a new business, there are often costs for business equipment, goods, coachings and advertisements. Even if these costs are comparably low in a network business, you have the possibility of financing through Fyrst.
For example, you could apply for a loan of Euros 5,000 with a term of 5 years (60 months) and repay monthly only Euros 87, given a good creditworthiness that Oliver has being a sideline business creator.
The payment and further processing of the loan are made by the Postbank, therefore, their calculation example:

Disadvantage of Fyrst: No Visa Card or Mastercard
Fyrst is a development from the Deutsche-Bank-group. Two aspirations seem to wrestle within it: great new developments, such as the free business account Fyrst with app and interface to further tax processing on the one hand – on the other hand the focus on the Girocard being an isolated solution from a wordwide point of view.
Who wants to add a credit card to the Fyrst-account, can apply for a Postbank Business Visa Card after the account opening. Herein, annual fees apply.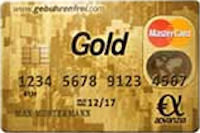 A free alternative would be the Gebührenfrei Mastercard Gold (fee-free Mastercard Gold) of the Advanzia Bank.
There is also a huge number of readers among our subscribers, who like to use this card for commercial purposes and at the same time, they receive a variety of insurance protection on journeys.
Conclusion
The free business account by Fyrst is a very good choice for someone, who made himself self-employed as a sideline job, similar to Oliver. One has a clear division between business and private from the beginning. Moreover, the account can grow along, regarding loan and later also asset investment.
Just like self-employed people make a living from speaking about them and recommending them, please do so with this article. Please supplement this article using the comments feature with your own experiences and ideas for a cost-free or also low-cost business account for self-employed persons – especially Fyrst.
Many thanks for your commitment!
I am happy to help with the answering of questions!
Note for readers from abroad: Please note that the business has to be registered in Germany in order to open this account. Self-employed have to do this at the "Gewerbeamt" (trade licensing office), freelancers at the tax authority.
As a supplement and worth a click: