Problem and Solution on this page:
Opening: Bank Account in Germany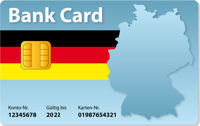 Even if the world is constantly growing together, it is currently still difficult for German banks to implement a meaningful credit assessment of applicants from abroad.
Both top banks of our special portal (DKB and Comdirect) issue by default a Visa credit card with outstanding conditions; therefore, a credit assessment is indispensable. For our readers abroad, we have found a simple way to open a free bank account in Germany via the Internet.
The idea of a free Savings Account in Germany
When opening a savings account, German banks have an easier time because you earn money for the bank. You do not (yet) get a Visa credit card. You can consign money in the German bank, but cannot use a credit limit. Therefore, there is no credit assessment.
If you are a serious customer, you can later obtain a complete current account with credit card in a simplified procedure and, if desired, also a securities account (not available for US-citizens). Please, continue reading for more information.
Complete Current Account with Visa credit card in the 2nd Step
Successful Application for a Savings Account
We recommend the savings account at the Comdirect, because the Comdirect is one of the best banks of Germany, the account application can be made online from abroad, as well as the realistic chance to obtain later a current account, credit card and securities account.
The savings account at the Comdirect is called "Tagesgeld Plus" and has the following features:
market interest rates depending on the level of interest in Germany
4 times a year, you will be credited interest rates
money is available at any time, no notice periods!
money is secured through the German deposit insurance system
there is no minimum deposit amount
the account management is free of charge
Info about the Savings Account of the bank: www.comdirect.de/tagesgeld
Account Opening is possible from Germany and other countries
Requirements to successfully open an account:
You must be able to broadly understand and speak the German language, as the contract language is German. Moreover, also the Online-Banking is only available in German language.
You must be able to provide the identification of the customer (legitimating), which is required by German law. Find more details below.
Account Application in 2 Steps:
Online-Kontoantrag

You fill out the application form online for opening the bank account "Tagesgeld Plus".

If you already have an address in Germany or if you are currently staying in Germany, then please use this application form: www.comdirect.de/tagesgeld (Online-form).

If you are abroad, then please use this link and click through the following path:

Für Personen, die nicht länger als 180 Tage in Deutschland leben (Persons, who do not live longer than 180 days in Germany)
Eröffnungsunterlagen (documents for the account opening)
Tagesgeld Plus
für Neukunden (for new customers)
here, you have to decide between Einzelkonto (individual account and Gemeinschaftskonto (joint account, if you want to open a bank account together with somebody else – e.g. married couples take advantage of this option)
PDF

Identification of the person

You have to identify yourself as a customer. The German law requests this from bank customers. If you are currently in Germany, then you can use the free PostIdent-procedure.

If you are not in Germany, you may choose to visit Germany and do the PostIdent here or take care of the identification with a notary in your home country. For this purpose, you may use the last page of the account application form.

You will have to bear the costs of the notary. Due to the fact that there are different legal systems, notarial confirmations will not be accepted from all countries. However, if you live within the European Union (e.g. in Poland, Spain, Italy or Great Britain), then you won´t encounter any problems.

Account openings from North and South America (from Canada to the USA and Brazil) as well as in Australia are common and valid too. For countries in Africa and Asia, it is better to consult the bank about if and which types of notarial confirmations are accepted.

When applying from abroad, please add the following documents in copy to the confirmation of the notary on page 6 of the application:

Proof of your residential address (e.g. gas, electricity or telecommunication bill)
Copy of your ID card or passport
Tax Exemption in Germany
In Germany, capital yields (interest on the savings account) are taxed. However, this only applies to people, who have their residence in Germany. As a foreigner, you do not have to pay this tax.
Interest income and Tax compliance
If you have your residence within the European Union, then the Comdirect is obliged, according to the EU-Savings Directive, to report your interest income to the Federal Central Tax Authority in Germany. From there, an annual report will be sent to the tax authority in your EU country of residence.
This directive was resolved to promote the tax compliance and it only applies to the European Union. A later extension to OECD-countries is currently under discussion.
Using the bank account "Tagesgeld Plus"
Money transfers
The account "Tagesgeld Plus"(Call money Plus) of Comdirect is a pure savings account. It is in frame for the flexible consignation of money. You cannot make money transfers with this account, but remittance transfers to your own current account at your bank.
The money transfers between your (foreign) bank and the Comdirect are always free of charge, if they take place in Euro within the SEPA-area. Otherwise, the Comdirect offers really low fees for foreign transfers.
Cash Deposits and Withdrawals
Whenever you are in Germany, you can deposit or withdrawal cash free of charge into/from your Comdirect savings account at any branch office of the Commerzbank (this is the second biggest German private bank).
You should pre-arrange a cash withdrawal of amounts beyond Euros 2,000 with the customer service of the Comdirect 3 days beforehand, in order to have your money ready in the branch office.
For a cash deposit or withdrawal, you should take your ID card or passport with you, as well as the bank account number.
Online-Banking
You will get a free access to the Online-Banking of the Comdirect bank. This way, you will always be able to access your bank account.
Security of the Money
Your money is safe at the Comdirect, as it is a German Internet bank that has specialized itself on online customers in the fields of current account and money investment. The Comdirect does not deal in abroad credits.
It earns money through the fees of securities trading, the interchange at credit card payments and the interest spreads between money deposits of customers and financing in Germany.
Additionally, the Comdirect takes part in the German deposit protection system that guarantees a statutory Euros 100,000 per customers and per account. Moreover, the bank is a member in the protection fund of the "Bundesverband deutscher Banken" (Association of German Banks) in a private-law manner. This way, each bank account is secured into millions of Euros.
Summary
The opening of a savings account at the Comdirect in Germany is quite simple, as a credit assessment will not be necessary. The account opening is possible from Germany as well as from other countries.
In any case, the account is free of charge.
"Apply now for Tagesgeld Plus"
… the free savings account in Germany!
Here you will find the link for an account opening from abroad: Comdirect-Forms.
Prospects to further services of the bank
As soon as you have managed to carry out your identification from abroad and have received all access data from the bank, you should transfer a little money to your new bank account. You can also perform regular deposits, in order for the bank to see that you are serious about your German bank account.
There are also people, who have transferred higher amounts, because they know that their money is safer with a German bank in Germany as in their home country.
Current Account + Visa Credit Card …
Some time later – but at least 6 months – you should ask the bank, if the opening of a current account would be possible. Tell the bank that you have made great experiences with the bank and that you want to use it more in the future. As the bank already knows you, your prospects are good.
You will possibly not get a high credit limit, as German banks decide on it depending on your work income. However, you will get a Prepaid Visa Credit Card. With this credit card, you can take advantage of all the mentioned benefits on the following page: 7 secrets to use the Comdirect Visa credit card optimally.
If you consign securities (shares, funds) in the Comdirect, you can get a credit loan on these … this, however, is an interesting topic for another article.
Here you can find the link to the highly recommendable savings account: www.comdirect.de/tagesgeld.
What questions do you have?
Further articles about German banks:
Images: sashpictures/Bankkarte und manipulateur/Geldkoffer (beide fotolia.com)
27 Responses to "Opening: Bank Account in Germany"