100% free use in Germany and abroad
DKB refunds foreign transaction fee
If you like to go travelling, when you visit other countries, then the DKB Visa Card has been made for you. It costs no annual fee, the DKB does not charge fees for withdrawing at the ATM and even refunds the foreign transaction fee.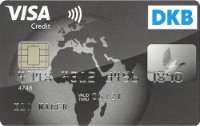 DKB: the most recommended credit card for journeys!
How the thing with the refund of the foreign transaction fee works, you will experience in this article. It was produced for you!
1. Use the DKB Visa Card for payments
Do not think about it and just use the DKB Visa Card to pay, no matter in which country you currently are. In all of my about 30 destination countries, I could perfectly pay cashless with the DKB Visa Card.
2. Card transactions state foreign transaction fee
You can retrieve your card transactions anytime within the online banking or through the DKB-app. There you can see that a foreign transaction fee in the amount of 1.75 per cent was charged.
DKB advantage:
At cash withdrawals, there is no foreign transaction fee nor a fee for using a third party ATM!
Most of all banks charge a foreign transaction fee.
However, the amount can vary quite a lot. I have seen everything between 1 to 4 per cent. Our best current accounts uniformly charge 1.75 per cent – only the DKB refunds it.
3. Refunds take place automatically
Especially nice: You do not have to do anything in order to get the refund. It takes place automatically with the credit card settlement.
On the day, on which the (interest-free!) gathered card transactions are settled with the current account, the refund of all accrued foreign transaction fees automatically takes place in one sum.
Questions, comments, advices? The comments box is activated for you!
Important tips for new DKB customers
If you are brand new at the DKB – so, just have opened the account (many people do that close before going on a journey) – then you do not immediately dispose of such a high credit line as I do.
Nevertheless, you can use the DKB Visa Card to its full extend, because you can increase the overdraft facility by yourself by depositing to the current account and transfer to the credit card.
Two years ago, I have recorded this explanatory video and it still helps new DKB customers:
Increasing the overdraft facility with credit line permanently
If you arrange to receive the salary payment (this is not obligatory for the fee-exemption of the account) to the DKB, then you get an overdraft facility relatively fast and a credit line on the Visa Card in about the same amount.
I have done it and have received a high credit line through it, so that I do not have to transfer between accounts before every journey.
Everything important about the overdraft facility is gathered here for you ► Credit line up to Euros 15,000.
A little history about the refund of the foreign transaction fee
2 Responses to "DKB refunds foreign transaction fee"