Are you a point-collector?
AMEX Payback in Germany: Is it smart to take the points?
On this page, you will find out in detail, why the American Express Payback Card obviously is a good credit card for smart bank customers.
You will learn the advantages and disadvantages of the card and find out at the end of the article, why it is meaningful to collect the Payback-points.
The advantages of the card
The American Express Payback Card unifies a collecting and payment card. You can collect points and redeem coupons at all Payback-partners with the card as used to.

Payback-partners are for example Aral, DM, REWE, Galeria Kaufhof, Alnatura and +650 further ones.

Moreover, you can additionally make points through purchases that do not even take place at Payback-partners. You receive 1 °P per 2 Euros card transaction and on top, the regular points of the Payback-partners.

Through the notification service, you can get informed about every transaction, free of charge by SMS or e-mail.

You permanently do not pay an annual fee.

You can apply for an also free additional card with which one can also collect points. However, note that all payments with the additional card will be debited from the main card account.

With the American Express Payback Card, you profit from a extended right of exchange. You can return online and offline purchases for 90 days.

The insured sum for that is Euros 300 per case of damage, per year up to Euros 1,200. The product value must be at least Euros 30, so that the insurance will take care.

Contactless payment: at merchants and service providers, who offer this service, you can pay smaller amounts up to Euros 25 contactless, without PIN and without signature.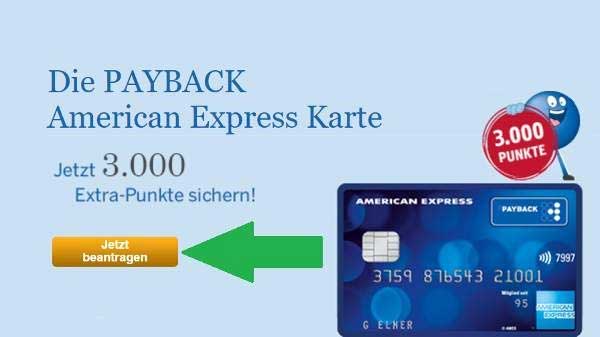 As you surely know, not every card is equally well-suited for every use.
However, this does not matter, because if you know the strengths and weaknesses of the different cards, then you have a suitable solution for every case.
The disadvantages of the card
For withdrawing cash, the card is not ideal. For every withdrawal, a charge in the amount of 4 %, but at least Euros 5 applies.

Additionally, at cash withdrawals outside the EU, a foreign transaction fee in the amount of 2 % applies. So, in order to get cash, smart bank customers should prefer to use the cards of the DKB.
For what can you use the collected points?
Do you want to save at your purchases?
Besides the possibility of redeeming ones points in the Reward Shop, it is a good idea to get a shopping voucher.
You can print or submit them for redeeming directly at the terminals at the PAYBACK Service Point in the branch offices.
… or do you prefer cash?
Already from 200 points, you can get paid cash to your bank account. This feature is a little hidden. For it, go to the following page and log in: www.payback.de/bargeld
Then you can choose, how many points you want to redeem and to which bank account you want to get the transfer.
Perhaps you want to use this additional income to accelerate your asset building?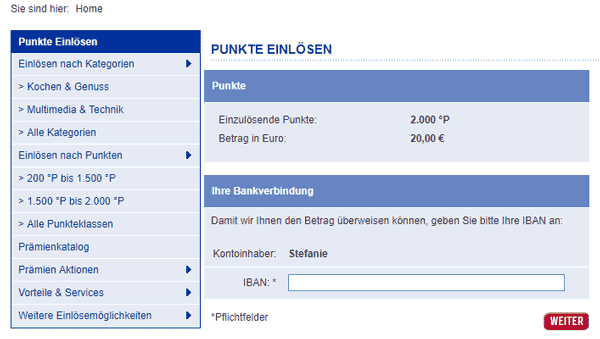 How you can fly with the Payback-points
If you are a miles-collector, then you won't be neglected by the Payback Amex.
From 200 collected points, you can convert these into Miles & More bonus miles in the ratio 1:1.
We would love to read from you in the comments area to which destination you could fly with your collected points.

Donate points
Many successful persons donate a part of their income to charity organizations. With Payback, you have the possibility to donate you points without having to diminish your bank account balance.
An overview to which organizations you can donate, you can find on this page.
Do you have any questions or are you ready for the next step now?
If you want to know how easy the application for the American Express Payback is, then open the link in order to follow the step-by-step instructions (German).
Ready for the opening?
… become a points-collector too!
Goal for the next 12 months
My personal goal for the next 12 months is to earn Euros 300 with the American Express Payback Card.
Euros 300 per year!
Of course I do that in a manner, so that I do not spend more money than necessary. This would not be smart.
However I will use the card very deliberately wherever possible.
If this sounds like a good idea to you, then write me.
Willingly stating a goal of how much money you want to get refunded through Amex or, if you already have the Payback Card, how much you have already received within the past 12 months.
I would also be grateful for tips on how to get more points even faster.
We can gladly forward this information or one will read it publicly through the comments feature.
Many thanks for your support!
Further broadly-discussed articles on this special portal:
39 Responses to "AMEX Payback in Germany: Is it smart to take the points?"