Consequence of an alarming police study:
Why you absolutely need a second free current account!
For those, who have watched the video until the end ⇒ direct link to the precaution plan.
Have you become a victim of a criminal act yesterday or the day before? Or do you know someone, who did …? Probably not!
Fortunately, our brain is programmed in a way to hide this permanent – but not acute – danger. Otherwise, we would not be able to live a happy life.
However, the fact is:
About 6 million criminal offenses are registered every year in Germany. Among them, there are:
16.434 cases of fraud through illegally obtained debit cards without PIN (debit method),
8.021 cases of fraud through illegally obtained credit cards,
20.700 cases of fraud through illegally obtained data of payment cards,
18.971 cases of account opening and transfer fraud.
Source: Police crime statistics of the federal annual report of 2013. For 2014, one again assumes increasing numbers!
Exactly this could happen to you too:
Let's say that you check your bank statements, as usual, and you find out that your account has a huge negative balance. You look at the individual accounting entries and your heart starts to race, as the many withdrawals are definitely not yours!
You take your bank card, because there is the phone number of the bank, if you have not already saved it in the phone, and call the hotline in order to immediately block your account.
Mistake: Any account can be blocked immediately!
Many people think that the general hotline can block any bank account immediately. This assumption is wrong! Correct is that each bank card or credit card can be blocked immediately – but not the current account.
My friend Paul had to wait from Saturday noon until Monday morning 9 clock until his local bank opened. You can imagine that he already waited running up and down at 8 o´clock in front of the door, hoping that at least one banker would arrive early at work and help him.
The advantage of the two direct banks that are recommended on this special portal: any account can be blocked immediately through the phone customer service. The phone support is available 24 hours a day – even on Sundays and holidays. On request with callback!
But it gets worse: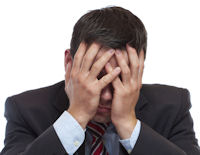 Imagine being on a (foreign) journey and your bank card or credit card won´t be accepted anymore. You call the bank to solve the problem and find out that you have become a victim of criminals.
What can you do now?
The card is blocked and your cash is almost consumed.
Truth is: most people do not take precautions, although it would be so easy!
Some people even think: "This is not that bad, in most cases the damage will be refunded." Yes, that is true! But does this fact help you, when you are without account, cards and cash, and have actually planned other things as taking care of the opening of a new bank account, and do not have time to wait until a new card is sent …
Not to mention the consequences that can occur, if direct debit orders burst – for example, the blocking of mobile and internet services!
Fact is:
No one is immune from becoming a victim of criminals. However, it is up to you how bad the consequential damages affect your life!
Adopt our precaution plan – it does not cost you an extra penny, but mitigates the damages to a minimum!
Precaution Plan:


Set up a 2nd account with bank card and credit card
Set up a second free current account at a German direct bank in addition to the current account at your main bank.

Explanation:

If the main current account is blocked, you can immediately access your current account for emergencies (you do not have to wait until a new current account is set up).
You can immediately switch the direct debit to the emergency account.
You can re-transfer already declined direct debits from your second current account in order to prevent the delay consequences of the failed direct debit.

Tell the second bank to issue you a free bank card and credit card.

Explanation:

If you are staying near your home town, it is usually enough to carry only one card for cashless payments. However, if you are travelling – possibly abroad – and your only bank card (or two cards for the same account) is blocked, then you quickly get into financial difficulties.
However, having a second card from another account at another bank, you can continue your way unimpeded.
For your safety, you should keep both credit or debit cards always separated from each another (keyword: pickpockets!).
Before you open your second current account, please read the following points carefully!
In order to avoid further (permanent) costs, because of these useful precautions, it is recommended to choose a German direct bank for the emergency current account that offers a free current account with free bank card and credit card (for journeys).
Make sure that a salary payment or minimum cash flow is not part of the requirements for the free account management!
Specific recommendation for action
If you are not yet a customer of the DKB (free current account with free Visa credit card, as well as worldwide cash withdrawals free of charge), then open your second account there.

The DKB is our internet current account recommendation #1 since more than 10 years. The account can also be used well as a main bank account. Here you can find detailed information about the account and bank ⇒ DKB current account.

If your are already a customer at the DKB, then open an online current account at the Comdirect Bank.

The biggest difference to the DKB is that you cannot withdraw cash free of charge with the Visa credit card at ATMs in Germany. This only applies to foreign countries. In Germany, you get cash free of charge using the Girocard at the ATMs of the Cash Group.

The account management, as well as the bank card and credit card, are also free at the Comdirect. Read more information here ⇒ Comdirect current account.
"Open a second current account now"
If you think about it, the solution really is simple: If one bank account (card) is blocked, use another, to not block yourself at all!
Images: fotodesign-jegg.de (fotolia)
2 Responses to "Why you absolutely need a second free current account!"